US Patent Office disputes crucial scroll-and-bounce Apple tech – Samsung demands patent trial halt
Shock twist in long-running courtroom snoozefest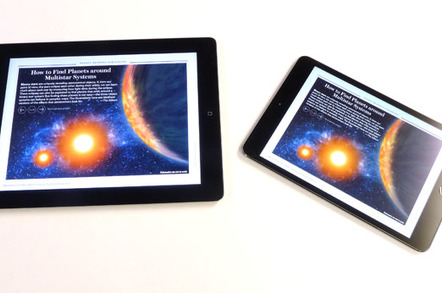 Samsung has launched a pair of last-ditch efforts to thwart its ongoing technology patent infringement legal battle with Apple.
The South Korean electronics goliath on Wednesday issued a request for a stay of judgment in a damages-deciding trial – after the US Patent and Trademark Office (USPTO) called into question one of Apple's key software patents. Samsung believes that move could undermine Apple's claim of damages, which a jury is this week weighing up.
According to the filing, the USPTO has asked Apple to clarify a patent, which describes an API to control the scrolling and bouncing of a user-interface object on a touchscreen. Samsung is accused of infringing that patent – and four others – but believes that its infringement liabilities could also be reduced as a result of the USPTO's latest review.
"This decision by the PTO jeopardizes the jury's findings in the damages trial and may render all of the post-trial proceedings a waste of time and resources," Samsung said in its filing.
The patent bombshell comes in the wake of an attempt by Samsung attorneys to have the whole lawsuit, launched by Apple against Samsung, declared a mistrial on grounds of perceived racism towards the South Korean firm by Apple's legal team.
According to a Bloomberg report from the courtroom, Apple attorney Harold McElhinny made reference to watching an American-made television set as a child, and claimed that many of those vendors were no longer active because they failed to patent their products.
Samsung attorney Bill Price reportedly objected to McElhinny's comments believing them to be an attack on Samsung and other Asian hardware vendors. The claim was eventually thrown out by Judge Lucy Koh and Apple's attorneys were cleared in the matter.
The USPTO findings are the latest turn in what has been a long and costly court battle between Apple and Samsung over allegations of patent infringements. While Apple has won a judgment of patent infringement, the two sides continue to argue over just how much money Samsung needs to pay out in the case. ®
Sponsored: Becoming a Pragmatic Security Leader