Google slips Chromecast stick into SAUCY new partner: HBO Go
Hookup latest in slow march of media acceptance for ads goliath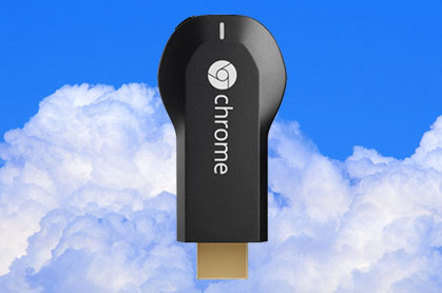 Chromecast users have another string to their media bow with the addition of HBO Go to the list of media companies streaming content through Google's cheap and cheerful dongle.
"Grab your favorite snack and get cozy on your Iron Throne, because HBO GO has added Chromecast support to their Android, iOS and web app," wrote Shanna Prevé, head of content partnerships for Chromecast and mother of dragons in training (yes, that is her title).
"Now you can easily enjoy Game of Thrones, Boardwalk Empire, Girls and your favorite movies on your TV by casting from the HBO GO app or website."
HBO has something of a reputation for being somewhat racier than mainstream TV as it's a subscription service. While the US public get in a tizzy at the mere sight of a nipple on public television, HBO gets away with violence, nudity and bad language – something that's been lampooned as "It's not porn, it's HBO." See the vid below, which does have NSFW language.
Youtube video of "It's not porn..."
At the July launch of Chromecast Google promised a steady stream of media partners, and HBO joins Netflix, Pandora, Hulu and - of course – YouTube in supporting the device. Users will need to download the latest version of the Chromecast app from the Google Play Store to access the new service, and the new app will be pushed out in the next couple of days. ®
Sponsored: Webcast: Build the next generation of your business in the public cloud