Cupertino clears Apple's Fruit Loop HQ - provided it coughs up more taxes
City council eyes fruity firm's billions as it waves construction plans through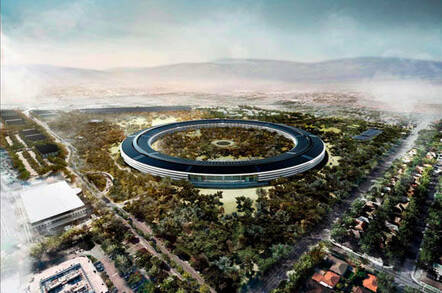 Apple has been given the final go-ahead to build its infamous "fruit loop" HQ - as long as it agrees to cough more taxes to the City of Cupertino.
Cupertino City Council voted unanimously to reduce the annual tax break it gives Apple by 15 per cent, before also agreeing to allow the fruity firm to park the spaceship-like Apple Campus II in the centre of town.
In 1997, Cupertino agreed to hand back 50 per cent of the tax raised by Apple's business-to-business sales.
Back then, Apple was struggling and so was Cupertino. But now, the agreement looks ridiculous considering the firm raked in total sales of $156.5bn in 2012 alone and boasts a cash reserve of about $100bn.
"There will be short-term and long-term impacts from this new development," Cupertino's mayor Orrin Mahoney said yesterday. "And as part of our negotiations, this change was just one way that Apple could continue to help us out in the long-term. This will give us some additional revenue, which will be nice to have."
It is estimated that the deal will net the city $1.8m.
There were no public objections at the vote yesterday and politicians were typically fawning. Cupertino has generally bent over backwards to make Apple feel at home, for fear of sending the city's one golden Apple tumbling from the tree.
A video of Steve Jobs telling the council about his plans two years ago looks more like a fanbois' love-in than a planning meeting.
"We're really proud that you decided to stay here in Cupertino," Councilman Gilbert Wong added yesterday. ®