CHRISTMAS MIRACLE! Dell's Android PC on a stick to ship with Santa
$100 thin thingy will be looking looking for lovelorn VDI buyers under the misteltoe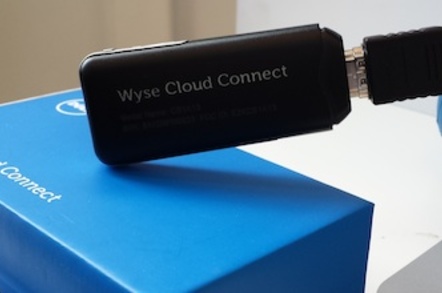 Dell's Project Ophelia PC-on-a-stick will finally come to fruition "before Christmas", staff of the newly-privatised entity told The Reg at the Dell Enterprise Forum in Melbourne today.
Now known as "Wyse Cloud Connect", Project Ophelia debuted back in January at the Consumer Electronics Show in Las Vegas. By May rumours suggested the device would emerge in July. Now Dell bods are saying Santa might just toss one out of his sleigh and into your office, where they hope it will find a useful role as a thin client.
The Cloud Connect stick's schtick is simple: the device plugs into a HDMI port and also sucks power from that connector. There's also a Micro SD card slot and a pair of mini-USB connectors for fripperies like keyboards and mice, but there's also Bluetooth.
Once you boot up it's Android all the way, with the demo unit we saw also boasting VDI "player" apps for Citrix and Vmware, plus Dell's own offering. Invoke that app and the magic of WiFi plus all sorts of back-end fun sees a desktop appear on the monitor.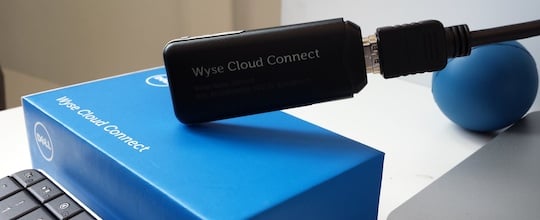 The PC on a stick formerly known as Project Ophelia
The Reg also heard hints that Dell may offer a VDI "solution" of some sort at or near the time of launch, as the company feels delivering virtual desktops is a bit hard at present and that customers would appreciate a simpler way.
Simpler VDI makes a lot of sense after Amazon Web Services last week made it about as simple as possible with its $US35/month streaming PC offer.
In the short time we were able to view the Wyse Cloud Connect it appeared to offer a vanilla Android experience and to be capable of running just about any app.
There's no word on whether a consumer version is still in the works, but as we've previously noted it would have lots of competition from cheapie devices available from online tat bazaars. Perhaps Dell's decided it's an enterprise offering, in which case makers of thin and zero clients have something to say "bah humbug" about over the festive season. ®
Sponsored: Detecting cyber attacks as a small to medium business