SuperStride Me: Reg hack spends week working at 'treadmill desk'
Get fit in the office without breaking your stride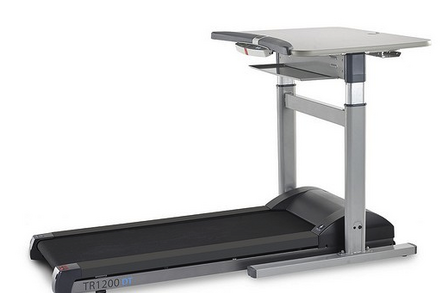 Part 1 I turned 45 this year, a psychological milestone that rammed home the fact I'm not in great physical shape.
My diet's rubbish and my usual efforts to keep trim and fit – cycling – have been curtailed by a combination of lethargy and kids' sport commitments that keep me off the road when my bike club sets out on weekends.
Which is why when I heard about "treadmill desks" my ears pricked up. Also known as walking desks, these devices are very slow and quiet treadmills with an ergonomically designed desk over the top. The idea is that you stroll through the day at a pace that permits typing and other work while accruing enough gentle exercise to avoid the life-shortening things that happen when you spend a lot of time sitting.
Author Neal Stephenson's a walking desk user and summarised the argument for them in an essay titled "Aresbestos" that quotes various sources to the effect that frequent gentle exercise may be as good for you as the occasional vigorous hour in the gym.
Aresbestos also says Stephenson's own conversion to a walking desk helped to fix persistent neck and back ailments.
I get headaches and cricked necks at work too, so out went my IKEA chair and in came the Infiniti TR1200DT-7, a treadmill desk branded LifeSpan in the USA and UK.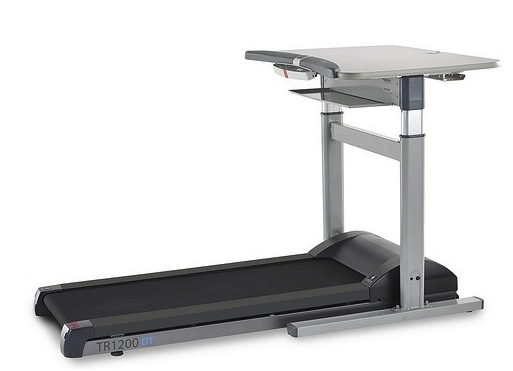 The TR1200DT-7 treadmill desk
First steps
The TR1200DT-7 is easy to set up, thanks to guide rods that align the desk and treadmill. A nine-pin D-cable and power cable link the two so data can flow to a small control panel in the desk that displays speed, walking time and how many steps you've taken and offers up and down buttons that drive a motor to get the desk to comfortable height. There's also Bluetooth, which chats to an Adobe Air app to bring stats to your desktop.
The desk looks surprisingly large, but was devoured by the combination of keyboard, mouse, monitor and MacBook Air. Its rounded shape is clever design: the desk sits at chest level for many people and if had had sharp corners it would be an accident waiting to happen.
Once I turned on the treadmill it was immediately obvious I just could not type while walking. I decided to stand and type and quickly learned the importance of the desk's long, gel-filled wrist wrest, as it put my hands into a comfortable typing position and also supported just a little of my weight.
Half an hour later I felt ready to get moving at the stately pace of 600 metres an hour. I quickly noticed was the treadmill's noise. Each footfall makes a sound and like the treadmill they get louder as speed increases. At 3kmph, the treadmill starts to make a mechanical whine that well and truly rises above background noise.
After about half an hour walking I could pause for a second or two to get my bearings or look at my keyboard, which came in handy because I was trying to type made it tricky to type the word "Szechuan" several times.
Szechuan wasn't the only word I was mangling: my overall typing accuracy decreased considerably.
I soon got the hang of things, but also felt a little giddy because my head was always moving as I walked. I'm pretty sure my two-monitor rig didn't help: I use my laptop as a second screen to monitor Twitter and shifting focus between an eye-level 24-incher and lower laptop made for some unbalanced moments.
An hour or so later I had worked up a very mild but noticeable sweat, enough that my outfit of jeans and business shirt made me feel a little overdressed. Increasing speed to 1km/h didn't make things worse and felt a little less awkward, so that's where I spent the rest of the afternoon.
I soon felt a little faint, which I attribute to having eaten a small-ish salad that left me rather peckish for lunch. My left knee, which I favour when cycling, ached a little too.
I therefore resolved that day two of my test would involve a better-fitting pair of shoes than the leather-soled brogues I wore on day one, lighter clothing and more time on the treadmill.
Getting into stride
On day two out went the brogues and business shirt. In came came a pair of street shoes that are mostly trainers, a loose pair of jeans and a long-sleeved t-shirt.
Before long I was walking comfortably at 1.2 km/h while ploughing through a morning's RSS reading without discomfort. Once Vulture South colleague Richard Chirgwin arrived I quickly learned that walking and talking requires a little more concentration than sitting and talking: he tried to make conversation and I find myself missing sentences.
By coffee time at 10:00 AM I had walked continuously for nearly 90 minutes and was always on the edge of being sweaty, which wasn't pleasant but felt like a healthy glow.
Standing still in the lift en route to the cafe was a welcome relief, but on my return I fired up the "count my steps" function on the treadmill and app and felt rather chuffed to have notched up 3,000 steps!
Fuelled by caffeine, I cranked the treadmill up to 4.0km/h. Keeping pace wasn't a problem. Keeping tolerably fragrant was: I was soon sweating properly and feeling a bit icky. Richard also found the increased cadence meant more and louder footfalls because the treadmill emitted a louder and more annoying pitch. A slower pace was therefore both sensible and sociable.
By 3:00PM I'd cracked the 10,000 step barrier. The street shoes worked a treat and my knees weren't sore at all. I managed to briefly interview a chap about Bitcoin without any inconvenience, although I began to find little excuses to hop off when talking to others, partly for the rest and partly because talking to someone while moving, and from behind a desk that stands a metre-and-a-half high, was just too weird.
At home I felt a little fatigued, but not as tired as after a decent bike ride. I did, however, make a mental note to consider chafing when dressing for my next day's treadmill action.
To be continued … ®