NASA probecraft to FLY the SKIES of MARS - IF it can make its launch window
NASA's latest Red Planet mission waits on launchpad for 2-hour chance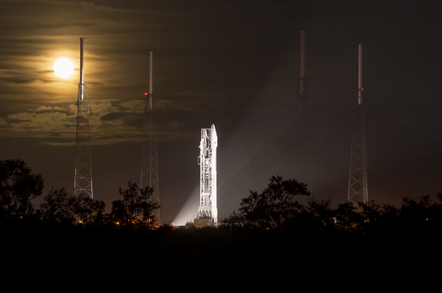 MAVEN, NASA's latest mission to Mars, is sitting on the launchpad in Florida's Cape Canaveral all ready to go – although there's just a 60 per cent chance of good weather for liftoff today.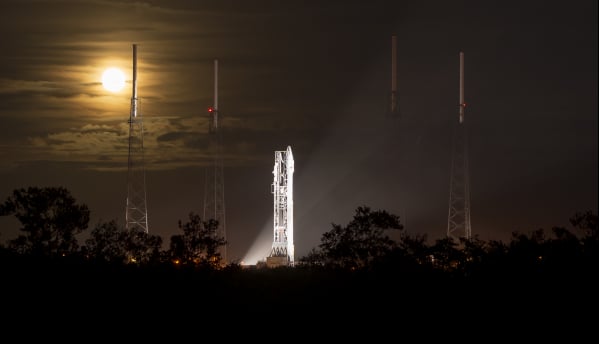 MAVEN waits patiently for the go. Credit: NASA/Bill Ingalls
The Mars Atmosphere and Volatile EvolutioN (MAVEN) craft is hoping to catch a launch window that will open at 1.28pm (6.28pm GMT) for just two hours. If the spacecraft misses that window, it has another 19 days to try to get into the air before it will be grounded until the beginning of 2016, when the Earth and Mars will line up just so again.
The orbital probe, built by Lockheed Martin, is due to blast off aboard an unmanned United Launch Alliance Atlas V rocket. If all goes well, it'll reach the Red Planet on 22 September, 2014. Once at Mars, MAVEN will stay in an elliptical orbit ranging from 93 miles to 3,728 miles (150km to 6,000km) above the surface and also do five dives to as low as 77 miles (124km) to capture a cross-section of the top of the Martian atmosphere.
The craft has three scientific instruments: the Particles and Fields Package, which checks solar wind and the ionosphere of the planet; the Remote Sensing Package, which will figure out the global characteristics of the upper atmosphere and ionosphere; and the Neutral Gas and Ion Mass Spectrometer, which will measure the composition and isotopes of neutrals and ions. With its trio of kit, MAVEN hopes to figure out why, if Mars was once a happy, watery place with a thick atmosphere, it's now a blasted arid landscape.
"Mars is a complicated system, just as complicated as the Earth in its own way," said Bruce Jakosky, the mission's principal investigator. "You can't hope, with a single spacecraft, to study all aspects and to learn everything there is to know about it. With MAVEN, we're exploring the single biggest unexplored piece of Mars so far."
The eight-foot (2.5-metre) cube, which weighs 5,400 pounds (2,450kg) at launch, was built at a cost of $671m, rather more than India's economical Martian effort, the Mangalyaan, which came in at the bargain price of just $74m. However, the two craft are due to arrive at the Red Planet at the same time, as the cheaper Indian mission is revving around the Earth to build up the momentum to leave our gravity well. ®
Sponsored: Becoming a Pragmatic Security Leader