iSpy with my little eye: Apple wants to track your every move
Cupertino supposedly rolls out NFC-a-like store info tech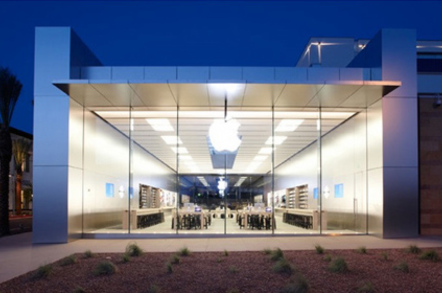 Apple is planning to use a hidden feature of its iPhone software to track customers as they wander around its stores, according to reports.
Mac rumours website 9to5Mac claims that Apple is planning to install tracking devices around all its US shops.
These iSpies will use a feature of iOS 7 called iBeacon to judge a shopper's location as they browse. iBeacon is described by the 9to5Mac website as "like GPS for indoor locations" although it warns that "pretty much anything at all" can be triggered on an iPhone by the iBeacon system.
Apple is reportedly planning to fit iBeacon transmission units in all its American stores. If this roll out is successful, it is likely stores across the world will also have the tech installed.
The service is apparently benign, designed to beam fanbois pricing or other information about the iStuff they are salivating over. It might also be used to tell shoppers about upcoming events, such as Genius Bar indoctrination training sessions, or perhaps to inform them that an iGadget has been fixed. Fanbois and fangurlz' iPhones are passive receivers unless an app - such as the App Store app - is installed on the receiving device.
The fruity firm has long been rumoured to be interested in extending its Maps software to cover indoor locations, so iBeacons could be a stepping stone to a world where no shopping trip goes unnoticed
Of course, any sort of tracking is likely to lead to claims that Apple wants to spy on its customers. In the wake of the NSA surveillance scandals and the revelation that spy bins are being used to snoop on shoppers in London, Apple's potential tracking plans could end up as a major PR disaster. ®
Bootnote
This all sounds a bit like NFC to Vulture Central's backroom gremlins. Even 9to5Mac describe it as "a 'Smart Sign' of sort for accessories that hang on shelves."
Sponsored: Becoming a Pragmatic Security Leader