Budget decay kills NASA plutonium drive project
Hopes for speedy solar system shutttle recede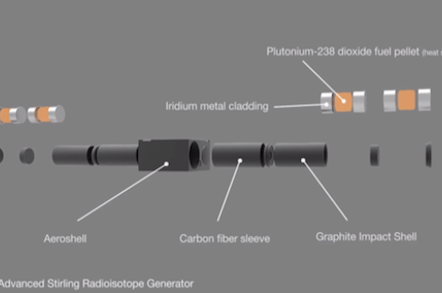 Budget cuts have forced NASA to mothball its Advanced Stirling Radioisotope Generator (ASRG), a power plant designed to help the agency run projects to the outer planets.
The ASRG was a decade-long development project designed to get the most out of space craft using plutonium-238 as fuel in applications where solar power won't work.
Current plutonium-powered craft use relatively inefficient thermoelectric generators. The ASRG development work was based on stirling engines which NASA said produced electricity at four times the efficiency of the older engines. This, in turn, would preserve its reserves of plutonium-238, which is produced in very low amounts.
NASA had initiated the ASRG effort to preserve plutonium-238, but in this statement, planetary science division director James Green announced the termination of the program:
"With an adequate supply of Pu-238, and considering the current budget-constrained environment, NASA has decided to discontinue procurement of ASRG flight hardware. We have given direction to the Department of Energy, which manages the flight procurement, to end work on the flight units. The hardware procured under this activity will be transferred to the Glenn Research Center to continue development and testing of the Stirling technology."
However, as Casey Drier of the Planetary Society explains, NASA's current output of Pu-238 is so low that it would take as much as 11 years to fuel a project like New Horizons, now approaching Pluto after a flight that started in 2006.
Drier's fear is that falling back to the less efficient thermocouple-based generator will constrain the number of outer-planet missions NASA is able to launch. A NASA animation describing the ASRG technology is below. ®