Boffin says astronauts could hitch to Jupiter on passing asteroids
Are you going my way, you big gorgeous big hunk of rock?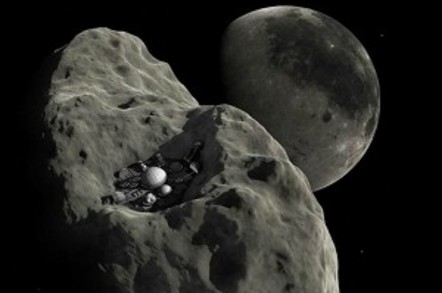 A Russian space boffin has claimed that astronauts could use asteroids to travel to the furthest corners of the solar system.
Sergei Antonenko, head of the Design and Research Bureau in the Khrunichev State Research and Production Space Centre, was speaking at the Technoprom-2013 conference in the Siberian city of Novosibirsk.
He claimed space explorers could set up permanent underground bases on certain asteroids to travel to planets like Mars and Jupiter, according to Xinhua.
Apparently citing the fact that many of these space rocks fly closer to Earth than the Moon, Antonenko said hopping aboard would not be a problem. Finding an asteroid going somewhere useful is the hard part, but according to Antonenko there are around 10,000 orbiting close to Earth and two million known asteroids in total.
A more practical solution to speedier space travel may be the use of nuclear-powered rockets in spacecraft.
NASA is corralling the scientific community to research and develop alternatives to traditional rocket technologies which would take around 500 days to get a craft to Mars, according to Space.com.
A University of Washington team funded by the NASA Innovative Advanced Concepts program is hoping to harness nuclear fusion in a system which could get astronauts to the Red Planet in just 90 days.
Other mooted plans involve nuclear fission-powered rockets and a system using electromagnetic radiation.
The Variable Specific Impulse Magnetoplasma Rocket (VASIMR) is currently being developed by the Texas-based Ad Astra Rocket Company and would require an onboard nuclear reactor to get a spaceship to Mars, the report claimed.
Faster forms of space travel are apparently necessary due to concerns over the long-term effects of living in zero gravity conditions and exposure to potentially dangerous levels of radiation. ®