Build your own WORKING Sonic Screwdriver... for a UNDER A FIVER
Our man embarks on the ULTIMATE maker project for fans
The evolution of a prop
At the end of the ring-on-stick phase, the Doctor's screwdriver got zapped by the best special effects the BBC could afford [surely "Terileptil laser fire"? - Ed]. By this point the Sonic Screwdriver was becoming a fix-all, too powerful to be allowed to exist. Robot dog K9 had forged a similar path, but while K9 got two spin-off series – K9 and Company and a cartoon, or three if you include his regular appearance in The Sarah Jane Adventures – the Sonic Screwdriver, like so many screwdrivers before it, got left in a drawer.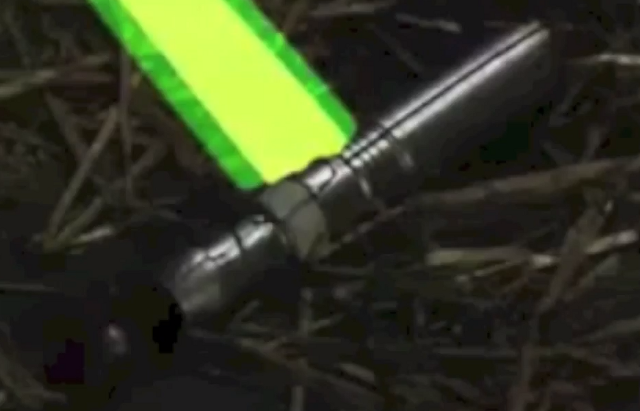 It would be nice to say the effect looked better in motion, but it would be a lie
Source: BBC
But it was too iconic to leave out of the 2005 reboot, during which it became stubbier, with a blue light. These days, it's altogether longer and sports a glowing green tip. And claws.
Since the Doctor's return, writers have struggled to avoid using the Sonic Screwdriver. Rebooter Russell T Davies reportedly said it should never be used to tie up a story but that may be a recognition of his own weakness to its charms. He certainly felt that it was the ideal mechanism to get the Doctor out of petty inconveniences which might otherwise hold up the plot while the Time Lord overcomes them.
These days the Sonic Screwdriver can dry clothes (the continuity person's dream), boost mobile data rates across time and space, and even enable international and, indeed, interspatial roaming. It dosen't work on wood (except when it does) and it can only locks (except when they're mechanical, sometimes), and (perhaps most importantly of all) it can make a huge amount of licensing money for the BBC.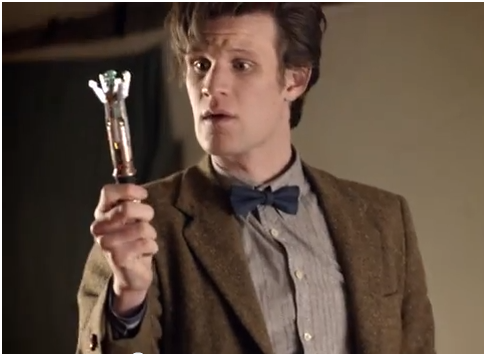 I detect... a massive marketing opportunity
Source: BBC
These days you can buy a Sonic Screwdriver to do just about anything. Collectors are seduced by incredibly accurate renditions of the actual props, while gadget fans can get a universal remote or a Wii controller in roughly the right shape - the latter actually being cheaper than the Nintendo version. You can even buy a model of the Sonic Screwdriver with a real screwdriver built in - what will they think of next?
Fans have thought of a good many things, particular credit going to the chap who created a Sonic Screwdriver which will unlock his car, but the internet is awash with meticulously engineered replicas and functional models created by hobbyists armed with CNC machines, artistic skill and a good deal of time.
Sadly, I have none of those, but I do have a totted* woodwork lathe and some Perspex tube so they will have to do. The Perspex tube was an obvious choice. Sprayed on the inside using can of car touch-up paint it becomes semi-transparent so you can see the circuits and chips inside. Capping it was more difficult. My first plan was to make something out of Polymorph, the material with which anyone possessing a modicum of artistic talent can make just about anything. But without that talent, I just had lumps of off-white snot.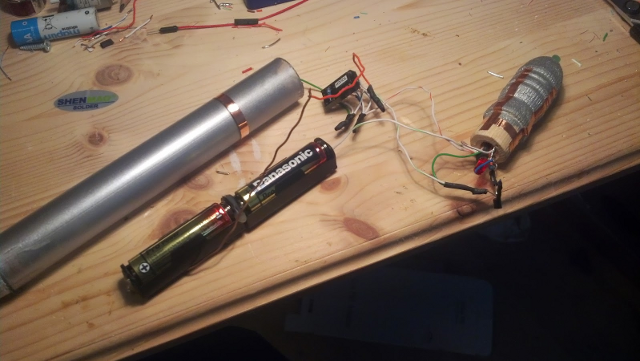 Some assembly required
So to the wood lathe. Turning wood is an acquired skill, and while I didn't have time to acquire it, I did manage to turn out some end points and throw on some matte silver paint to cover my shoddy workmanship.
The sticky-backed copper is largely decorative, but the upper band is connected to the touch chip – though a hole drilled in the Perspex, with a ceramic bit – and one of the copper lines at the top connects to the antenna of the detector. Then it was just a matter of pushing everything together and hoping for the best.
Sadly the best didn't arrive as the tube was too short to accommodate the electronics no matter how much they were squeezed, and a replacement tube had to be constructed before everything would fit together. But I got there in the end.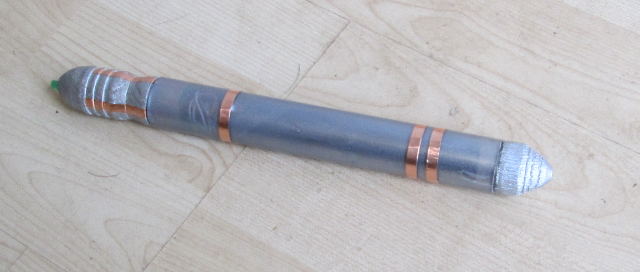 The lights aren't on here, obviously, but to be honest you'd be hard pressed to see them if they were
Somewhat to the surprise of everyone I showed it too, the constructed Sonic Screwdriver works as advertised, the body lights up red when the upper band is touched, and the greed LED can indeed detect the unseen forces of static electricity.
Sadly, neither LED is as bright as I might like. The green in particular works best in a well-darkened room, which is why there aren't any photographs here of it in action. You'll have to take it from me that it detects mysterious forces and displays the results in a form too complicated to be worth displaying on a TV screen. Surely all that's required of a real Sonic Screwdriver? ®
*"Totting", the art of grabbing discarded stuff from rubbish dumps and tips, for reuse or recycling. One who "tots" is a "totter", as in 76 Totter's Lane, the location of the scrapyard in which we first encounter the Doctor.