Space hotelier Bigelow wants capitalists to FIGHT comm-MOON-ist takeover
Puffyball tech chief wants change to 1960s UN treaty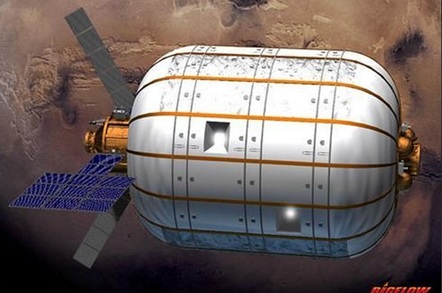 Bigelow Aerospace, sellers of inflatable bubble habitats for infinity and beyond, is filing for an amendment to the 1967 Outer Space Treaty to allow private individuals to own sections of the Moon.
"No one 'anything' should own the moon, but yes, multiple entities, groups, individuals, they should have the opportunity to own the Moon," company founder Robert Bigelow told CNBC.
The Outer Space Treaty, first created by the UK, US and Soviet governments in 1967 and administered by the UN, is the basis of today's space law and has 102 signatories. Article Two states: "Outer space, including the Moon and other celestial bodies, is not subject to national appropriation by claim of sovereignty, by means of use or occupation, or by any other means."
Crucially, Article Six defines states to cover non-governmental entities operating within their jurisdiction, and that's presumably the part Bigelow wants to get changed in an application request to the Federal Aviation Administration's Office of Commercial Space Transportation.
Bigelow is one of the budding breed of space entrepreneurs looking to make a fortune in spreading mankind further. His eponymous company launched its first habitat, Genesis I, back in 2006 and it's still in orbit, albeit somewhat deflated.
Genesis II, a solar-powered bubble containing environmental controls and video cameras, lasted more than two and a half years before failing, and used multiple layers of fabric to protect against micrometeorites and space debris. Both bubbles are still in orbit and should be burning up in Earth's atmosphere within the next decade or so.
Their performance impressed NASA enough to order a unit for the International Space Station, and it will be deployed in 2015 by a SpaceX Dragon booster. The bubble will form an extra module on the ISS and will be deployed and monitored for two years, although astronauts are still deciding if they want to live in it and are more likely to pop in every month or so to check out systems.
Bigelow also has a contract with SpaceX to taxi services to future orbital facilities to its biggest bubble yet, the 330-cubic metre BA 300 module, which could house six people in relative comfort for longer duration missions, his company said.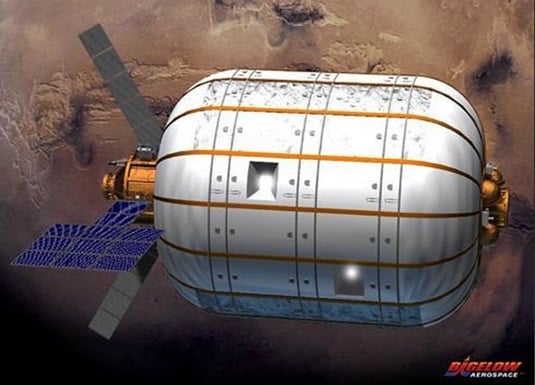 "I can see our house form here"
But Bigelow also wants human facilities on the Moon itself, and says it's packed with valuable minerals. His company won't be doing any mining, he explained, but wants to house those that do. The man has form – he owns the Budget Suites of America hotel chain here on Earth.
Allowing private ownership and exploitation rights to the Moon would inspire a wave of investors to put private money into getting into space by offering the chance to make a return for investors Biglow said, albeit within some sort of legal framework.
"When there isn't law and order, there's chaos," he said. "It provides a foundational security to investors,"
But that's not to say he's only in it for the money. China is already putting together plans for a lunar base and America needs to get its builders there first and establish some ground rules. The alternative is a soulless future, Bigelow claims.
"It's the psychological impact that has the value, of every soul looking at the moon and knowing that it belongs to China," he said. "I think that's something the United States would not recover from for hundreds of years."
The Chinese government signed and ratified the Outer Space Treaty back in 1983, and has said nothing about allowing commercial companies to set up operations on the surface. But Bigelow says they're not there for "footprints and flags." ®