Oh Mr Darcy! You're PRESSING MY BUTTONS
'Stride & Prejudice' app turns Jane Austen classic into side-scrolling game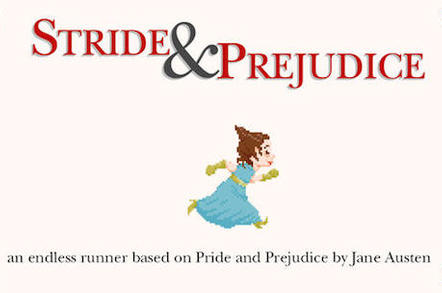 Teaching kids to appreciate classic literature? There is now, perhaps inevitably, an app for that called "Stride & Prejudice".
The app is based on the Jane Austen classic "Pride and Prejudice", and takes advantage of the fact the novel is now well and truly in the public domain to render it as a side-scrolling computer game with eight-bit-style graphics and a hefty debt to Pitfall.
The concept's pretty simple: you play Elizabeth Bennett and proceed through the novel by jumping from line to line of text. Miss a jump and you either go back to the beginning (survival mode) or resume from the scene of your last accident. Each demise produces a dialog offering a quote from the book. You can choose to have the side-scrolling accelerate as you read, or keep its procession at a stately pace.
The soundtrack is rather at odds with the novel's Regency setting, but can be switched off.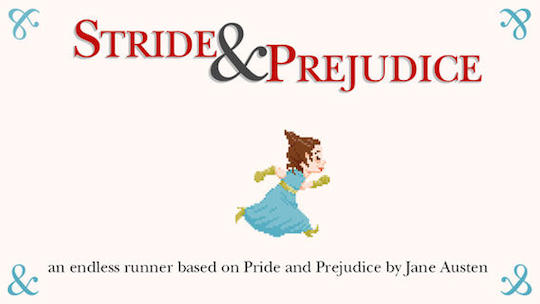 Let's be honest about this iOS app: it's a terrible way to read the book and the game won't excite a generation raised on rather more hyperkinetic fare. But like one of those cute-but-useless joke presents you're probably about to get for Christmas (think Unicorn Farts) it'll put a smile on your face for a few minutes. At $US0.99 you may well be thinking about just the people you could send it to this festive season. ®