Microsoft bags another glamorous Office 365 customer
Poundland coughs for 1,200 seats, bins IBM Notes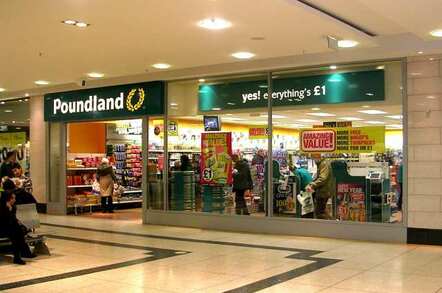 Microsoft knows how to score those big cloud rollouts with customers that are positively dripping in glamour - Poundland is migrating to Office 365.
Europe's self-proclaimed biggest "single price discount retailer" chose heavily Microsoft-accredited channel partner Core Technology Systems (CTS) to deploy the cloudy wares.
"For the first time, colleagues at every Poundland retail store will have access to Word, Excel and Powerpoint web Apps through their browser," trilled IT director Mike Gray.
The rollout includes Office 365 with a Windows Perpetual License for desktop operating systems. Some 1,200 licences were sold, CTS confirmed.
Poundland stores currently employ 12,000 staffers across 490 outlets in the UK and Ireland with another 1,000 stores being planned both in Blighty and across parts of mainland Europe.
Gray said the firm had also ploughed funds into the "computerisation" of stock control, distribution, financial and staff management systems and the network infrastructure.
Lloyd Carnie, cloud services director at CTS, told us the potential licences purchase haul could stretch to 5k users if the retailer's expansion plans work out.
He said Poundland was using IBM Notes but shifted wholesale from on-premise to the cloud. "30 per cent of my business is currently migrating people off IBM Notes.
"We tend to find most users can't stand it [IBM Notes]… people don't like the functionality and administrative resources are few and far between," said Carnie.
More than four years back at WPC, then-Microsoft CTO Kevin Turner claimed to have "completely eradicated" what had been Lotus Notes from certain regions, replacing it with MS software .
Earlier this year, Microsoft threw money at enterprise channel parters to flog its Office 365 suite, dishing out $40 per seat for the first 3,000 seats and $5 for each additional one. The promo ended in June.
This may have contributed to a rise in sales, because Microsoft reckoned in the summer that it had signed up one million subscribers to Office 365. Among them was a certain car maker called Aston Martin. ®