iTunes-for-corporates private app stores put firms at risk – survey
You'll pay three times when yon luser downloads it thrice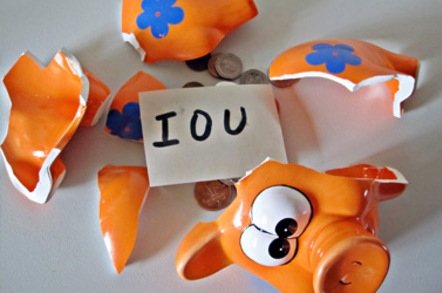 Businesses risk flunking software licence audits and overpaying for their apps by rolling out their own take on Apple's iTunes app stores for business.
That's the warning from an IDC and Flexera Software poll that found 63 per cent of companies are planning their own enterprise app stores.
Stores will be used by staff to download apps for things like personal productivity and creativity from Microsoft and Adobe Software – two companies renowned for sending in the audit shock troops to see what you're running.
But, the poll found, 59 per cent of firms planning such a strategy are "not well positioned" to understand the risks they are running.
De-centralising central IT = not the best idea
Those risks include staff downloading and using software they aren't allowed under a licence agreement, with their employers paying millions of dollars in top-ups come audit time. Also, staff downloading without proper oversight or sign off thereby running up unnecessary software costs.
Enterprise app stores are on the rise. Gartner said back in 2011 that 60 per cent of corporate IT departments would deploy a private app store by 2014.
App stores are seen as providing a more flexible and effective approach to rolling out software across organisations with thousands of PCs. The download model is opposed to the existing practice of burning a standard PC image that's tested against all machines before being installed manually.
The app store, theoretically, also provides a means to provision groups of users running a particular set of non-standard apps with less fuss and involvement from central IT.
Flexera reckons the Apple app store has raised awareness about this model, as people at work want the same simple model of application delivery they get at home.
Off-the-shelf app stores are available from Flexera with its App Portal as well as from companies such as Service Now.
But, Flexera warned, some companies haven't thought through the complications involved and they think it means simply slapping a portal-front end on their help desk.
This means tying app stores into existing business systems to confirm licence compliance and to ensure those downloading apps are entitled to us them.
Nor are organisations thinking about tying app stores into their existing procurement systems, for managerial sign-off on app downloads to help control costs.
Companies therefore risk paying tens of millions of dollars in licence costs on top of fees to software companies like Microsoft and Adobe as users download apps they aren't entitled to.
Flexera reckons a quarter of enterprises ended up paying a million dollars to software-makers in the last year to balance what they owned on licences.
However, it reckons others have paid in the "tens of millions of dollars" range.
Alternatively, companies might find users are downloading the same copies of apps – Flexera EMEA vice president Patrick Gunn told The Reg that he's come across examples of companies where the same app as been downloaded on a work PC three or four times.
Often, it's because the user forgot they had or lost the existing version of the app concerned or they downloaded a new version when the old version still worked.
The Flexera and IDC's Software Application Usage Management Report surveyed more than 750 respondents from software ISVs, intelligent device manufacturers and end-user enterprises during the first half of this year.
The topic was the consumerisation of enterprise IT. ®