'Daddy, can I use the BLACK iPAD?': Life with the Surface Pro 2
Really nice indeed, but will people ever care?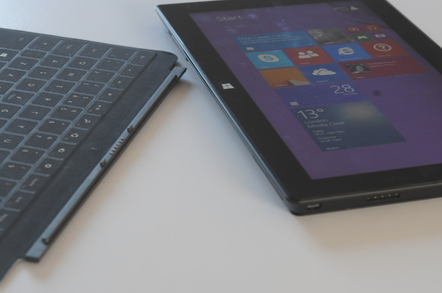 Review "Daddy, can I use the black iPad?" my four-year-old daughter asks as she spots the Surface Pro 2 I'm reviewing for The Reg. She has, without knowing it, encapsulated Microsoft's problem on Surface in a nutshell.
I'd been passing the Surface Pro 2 around to friends and family at a weekend gathering to garner their feedback. Plenty of beltway journalists and reviewers have had their stab at the Surface Pro and Surface 2 and the reviews are mostly pedestrian, lists of feature improvement since version one a year ago, and inconclusive. It's a hit. It's not a hit. It's a step forward. It's a big change. Meh. This is the tenor of reviews I'm reading. Time for some real-world input.
Microsoft is late on tablets – yes, we know that. But what has been the damage to Microsoft and how does that relate to this review?
Microsoft has lost money. Microsoft has lost market share. But the thing driving both is the loss of "mind share" to Apple. Lose the mental battle and you have a huge hurdle to clear when it comes to persuading people to buy your products.
They're not selling a product - they're selling a rival-to-something-else
That's exactly what we see now from Microsoft. The company is not selling Surface just on its merits, it is also selling Surface in a comparison grid against named competitors. Steve Jobs and Apple didn't sell the iPad in a comparison grid against the PC or phone. They just sold it. It just was.
If you believe Microsoft, then the Surface 2 isn't even a competitor to the iPad at all – the MacBook Pro is the target. "A PC in the form factor of a tablet," Windows senior product manager Robert Epstein told me.
But, listen Microsoft: Surface is and will be compared to an iPad whether you like it or not, as my daughter proved, and as I found out field-testing this machine. And our family doesn't even own an iPad.
To try to emphasise the difference with the iPad further, Microsoft is calling the Surface Pro the "most productive tablet ever". By implication, the iPad is a consumer toy - good for noodling away hours on some app but not for really for serious spreadsheeting and emailing.
Surface Pro 2 is for road warriors and desktop masters. So Microsoft would have us believe.
But productivity doesn't just mean faster processors or more integrated "experiences" as you get with Surface Pro 2: it's softer stuff, too. Stuff like whether I can use this machine without it getting in my way or tripping me up.
Here, Microsoft has a problem.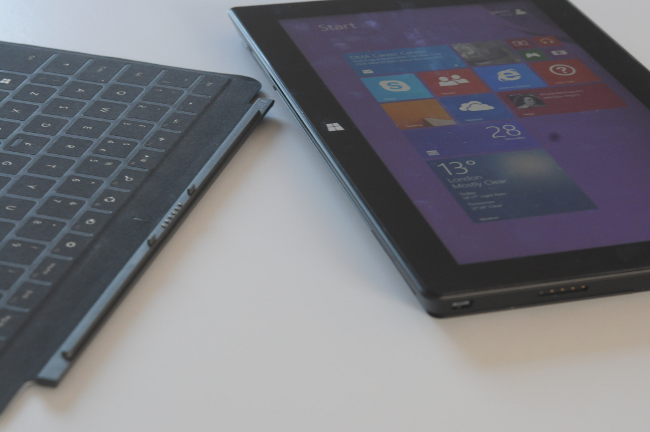 Surface Pro 2: the tablet Microsoft calls a PC
He ain't heavy...
But as this is a PC/tablet review, let's talk hardware first - especially as that's the thing Microsoft has been crowing about. We have a machine that's 10.81 x 6.79 inches and 0.39 inches thick. That's the first notable thing – dimension is noticeably letterbox format as opposed to the squarer iPad. The screen size seems quite narrow, too – that's important for later.
If a MacBook Pro is the target, then Surface 2 Pro is certainly smaller and lighter than 13-inch MacBook Pro with Retina display. Surface Pro weighs just under a kilogram versus 1.5kg for the MacBook Pro. But tablets? The iPad Air and iPad 2 both undercut Surface Pro 2 by between a half and a third each. Further, the iPad Air is smaller than the Surface Pro 2, while broadly, on size, it's more or less a wash between the Surface and iPad 2.
I've got a 64GB machine with 4GB memory. Memory and storage are key differentiators as far as Microsoft as concerned, with the Surface Pro can go up to 512GB configurations with 8GB of RAM. The top-of-the-range iPad packs 128GB hard drive and 1GB memory. That 13-inch MacBook Pro runs up to 8GB memory and 1TB hard drive so, here, the MacBook wins on raw numbers.
Processor is the Intel Core i5 for speed; there's a claimed battery life of one week to 15 days on standby; you get a USB 3.0 port and microSDXC card reader with mini display port. There's also a port for an attachable keyboard.
The Surface Pro comes with two things I thought went out with PDAs from the early 2000s: a kickstand – to prop up the screen into one of two viewing positions (on the first machine there was just one position) – and a stylus.
The whole package fits into the fabled VaporMg casing and I've been supplied with a Touch Cover 2 – a flat, touch-type keyboard that's back-lit. This is the keyboard that snaps into the keyboard port. The Surface Pro is priced at £719, while the touch cover sets you back £99.99.
Like my real-world reviewers, I'm new to Surface Pro, so there were no comparisons to the first machines from a year back. All the better, given that's exactly what most people will be doing if they buy or get given one of these machines.
How did this lot fare?
VaporMg might be cool, but after a few weeks it's as smeared with greasy fingerprints and as scuffed as any tablet case. So much for "cool".
Strangely for a device with stylus, there's no slot and it snaps into the magnetised slot for the power lead on the side. To my surprise the stylus doesn't actually get knocked off and get lost in the bottom of my bag.
Much has been made of the battery life and standby time. I can vouch it holds up, going for days without a recharge.
Let's talk keyboard. First things first, turn off the irritating toc-toc-toc sound effect when typing that's turned on by default, it seems. If you don't want to type onto glass, you have the Touch Cover.