Japanese PM holds on for dear life in self-driving car
Shinzo Abe's selfie vid shows very nervous PM enduring rather smooth ride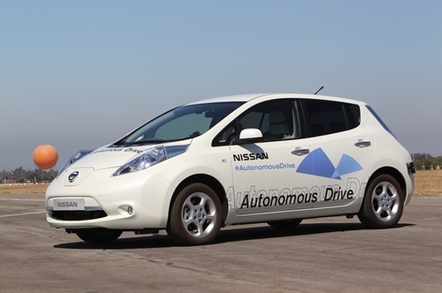 Nissan took one of its self-driving cars onto the congested streets of Tokyo for the first time last weekend, with a rather sceptical looking VIP (very important passenger) in tow.
Japanese PM Shinzo Abe took a brief spin in the 'Autonomous Drive' car on Saturday, as well as similar models from Toyota and Honda, ahead of the Tokyo Motor Show.
He told reporters afterwards "I really felt proud that Japanese technology is the world's best," according to AFP.
However, as this video shows, Abe didn't look completely comfortable as the auto-pilot was switched on, his left hand clamped firmly to the inside passenger door handle throughout the brief trip.
These cars have apparently been tested out hitherto on highways where there are no pedestrians and more predictable driving conditions, so it was a first for them on the mean streets of Tokyo.
Despite Abe's leap of faith, Japan faces stiff competition globally in this emerging automotive technology market.
Google promised last year that its self-driving cars would be ready by 2017, three years before Nissan's tentative launch date.
Crucially, laws in California and Nevada have already been passed to allow them on the roads, as long as there is also a driver at the wheel.
A Navigant Research report back in August claimed that by 2035, 100 million autonomous cars would be sold annually worldwide.
That may be, but it's likely they'll gain traction first in countries with relatively predictable driving conditions and risk-averse drivers.
So in APAC: Japan yes, China, Indonesia and Thailand no. ®