Stale Blackhole leads to dried-up spam, claim badhat-probers
Infosec bods say malware-flingers have moved on to CryptoLocker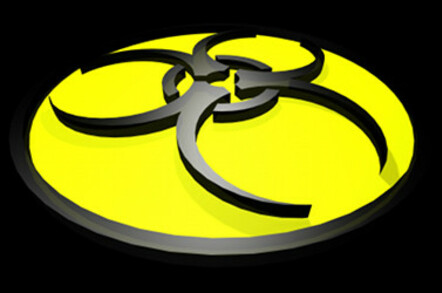 Security researchers at Trend Micro reckon that Blackhole, cybercrooks' preferred tool for running drive-by download attacks from compromised websites, is no longer being updated. This means the utility - which was available for rent at around $50 a day - has quickly gone stale.
Nature abhors a vacuum, though, and malware-flingers have quickly latched onto the infamous CryptoLocker ransomware.
Trend Micro and others said they quickly noticed a significant reduction in spam campaigns using Blackhole exploit kits in early October, creating a vacuum in the spam-sending world.
The Upatre exploit kit has become one of the preferred replacements for Blackhole, which had been a common tool of cybercrooks since 2010. The move is bad news for those interested in internet hygiene, because Upatre is a significant vector for the spread of CryptoLocker.
"We've found that the Cutwail botnet responsible for the major Blackhole Exploit Kit spam runs started sending out runs carrying Upatre (which ultimately leads to CryptoLocker) right around October," Maria Manly, an anti-spam research engineer at Trend Micro explains in a blog post. "In fact, we have monitored multiple IPs involved in the transition – [from] sending Blackhole Exploit Kit spam [to] sending CryptoLocker spam."
She adds: "The Cutwail-Upatre-ZeuS-CRILOCK infection chain we spotted on October 21 may be the most common infection chain used to spread CryptoLocker."
The Cutwail botnet has the capability to send very high numbers of spam messages, a factor that might go a long way towards explaining the sudden recent upsurge in CryptoLocker malfeasance.
CryptoLocker is a particularly aggressive ransomware Trojan. It normally arrives in an email as an executable file disguised as a PDF file, packed into a zip attachment. If opened, the malware attempts to encrypt the user's documents across both local and any mapped network hard drives. The malware uses an encryption key that is generated on a command-and-control server and sent to the infected computer. If successful, CryptoLocker will encrypt users' files using asymmetric encryption, featuring a public and private key pair.
The owner then receives a ransom demand, payable within 72 hours, of around $300 or more.
The reaction to Blackhole's removal from play "highlights, somewhat perversely, how resilient cybercrime can be," according to Manly.
A suspect was recently arrested by Moscow cops in connection with the Blackhole Exploit Kit case, although El Reg notes there is not necessarily a link between the two events. ®