New Retina iPad Mini not sold out HOURS after launch - world REELS
What's going on?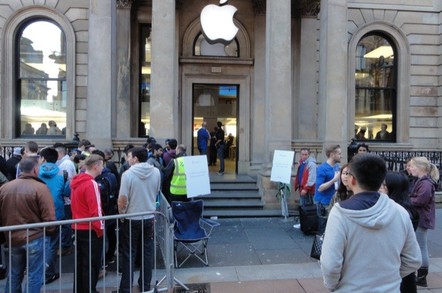 Analysts worldwide are increasingly dumfounded today as it appears that the new Retina iPad Mini from Apple has not, according to Apple's online stores, sold out within hours of becoming available.
As this article is written the UK Apple Store website still shows all models of Retina Mini available for delivery within just days, despite the fact that the latest fondleslab range has been available for more than five hours.
Normally an Apple product launch of the type seen today follows a strict sequence of events. First, no announcement at all is made. Then, some sort of rumour or supply-chain leak or Apple website "accident" lets the fanbase know just when to expect the new shiny. Then, "unexpectedly", it appears for sale. Alternatively the programme with lots of camping in the street outside the meatspace stores will be followed.
Either way, by this point the product should be "sold out", so generating stronger desire for it and enabling Apple to sell more.
"I can't think what they're doing," comments one industry analyst who preferred to remain unnamed. "Surely it isn't diffcult to make a website say it's sold out, or at the very least that nothing can be shipped for a few weeks. It's not hard to make sure your stores stop handing over hardware after a few hours. This is basic stuff - it wouldn't have happened with Jobs in charge, I can tell you."
Bafflingly, despite several paragraphs having been written since the last time we looked, the Apple Store delivery forecasts for Retina iPad Minis remain unchanged.
Perhaps Apple is having website problems. ®