Flippin' heck! Magnetic poles of Sun are gyrating: What Earth needs to know
Flares to fall away as Sun completes another natural cycle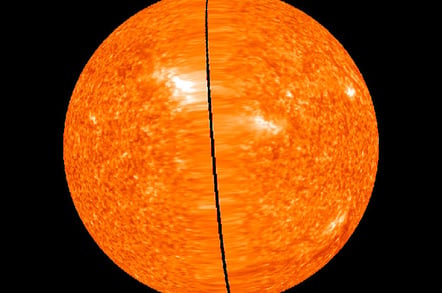 Vid Sun watchers at Stanford say our star is undergoing one of its periodic magnetic polarity changes, leading to a modest peak in solar activity.
"It looks like it's happening right now in the southern hemisphere," Todd Hoeksema, a solar physicist at the university, told The Register. "The North Pole flipped in early June last year, and right now we're looking at the South Pole flipping as well now so the hemispheres will be in sync again."
Stanford's Wilcox Solar Observatory has been studying Sol non-stop since 1975, and this is the fourth polarity flip it has observed in that time; the Sun usually switches every 11 years. The changes in output ripple across the entire heliosphere and may be felt by the Voyager spacecraft on the edge of the Sun's influence.
So what does this mean here on Earth? Well, not a lot as it turns out. There has been an increase in solar flares while the shift has been occurring but these should now tail off as the Sun moves away from its peak of maximum activity. The video below has more on the experts' work:
It has been an unusually quiet solar cycle this time around for our star, Hoeksema said. In the last few weeks there have been a rash of sunspots, but overall activity has been about half of what scientists would expect for a solar maximum, making it probably the quietest cycle in the last century.
The Earth shifts poles as well, although on a much slower cycle than the Sun. Our polarity changes over every 100,000 to 200,000 years, and the next shift should see the planet's magnetic field from having two poles to four – and the dipolar forces are measurably decreasing, he said.
Doomsday merchants will tell you this would mean the end of life as we know it, but actually we'd just experience a slight reduction in our shielding from solar winds and some possible effects on satellites.
"The same systems that are vulnerable now such as power systems would face increased risks, but your radio and telephone are still going to work. And this isn't something that happens overnight, we'd have a warning," he said. ®