Anonymous threatens cyberwar with Anonymous
And it's all because of climate change and Edward Snowden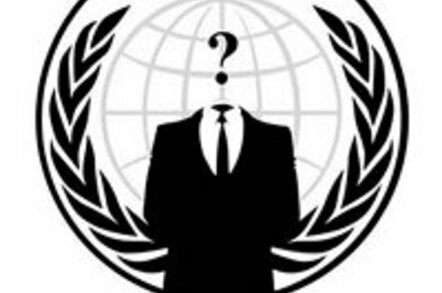 Anonymous has threatened to start a cyberwar with Anonymous.
The peculiar threat can be traced back to Edward Snowden, who among his many revelations has alleged that Australia and the USA spied on Indonesia during the 2007 United Nations climate change conference held on the island of Bali.
Indonesia's government is, understandably, less-than-happy with news its supposed friends tried to prise away some secrets. Nor is Anonymous Indonesia, which has launched a series of attacks on Australian targets to protest the incident. Those attacks have, however, not exactly made an impact on Australia's government inasmuch as they've targeted small businesses.
Targeted sites have been defaced with the message "Stop Spying on Indonesia. Tell on your government stop all forms of tapping into Indonesia. Or we will make your internet network destroyed."
The attack seems not to have been particularly successful: Danny's Dry Cleaning, one of the sites said to have been defaced, is back online. Vulture South is pretty sure Danny has not been part of a delegation to Canberra demanding the cessation of covert intelligence activities in order to keep his web site up.
Anonymous Australia has now stepped into the dispute, threatening Anonymous Indonesia with a "final warning" that it must stop its attacks because "These websites that you have been attacking are not affiliated with the Australian government and need to be be left alone."
"What is there to prove? We do not want a cyber-war, do you?" Anonymous Australia asks in this video.
The Australian group then offers a helpful list of legitimate defence organisations for its Indonesian brethren to target.
A spot of Anonymous on Anonymous action could mean plenty of lulz, as the spectacle of an organisation attacking itself would highlight the many contradictions inherent in Anonymous' organisational lack-of-structure.
Whatever the politics involved within Anonymous, Snowden's allegations are geopolitically significant because Indonesia has a population of over 300 240 million and its rapidly-growing economy will soon be one of the world's largest. It's hard not to imagine that Indonesia assumes Australia, the USA and just about every other foreign government tries to divine some of its secrets. Snowden's allegations mean it now has a chance to confront the fact and perhaps embarrass its allies into a concession or two, an outcome Anonymous seldom achieves. ®
Sponsored: What next after Netezza?