Latest global menace: ELECTROPULSE NORKS, apparently
Crazed dictator has electronics-nobbler death rays, claim spies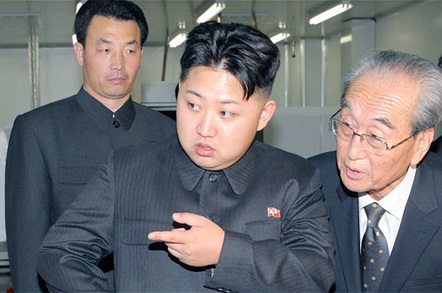 North Korea is developing electromagnetic pulse weapons designed to cripple military and civilian electronics south of the border, it is being claimed.
The South Korean spy agency, the National Intelligence Service, told its Parliament that the Norks had purchased Russian EMP equipment, which they were reverse engineering to make their own kit.
According to a report from AFP, the southern spooks have said Kim Jong-Un is interested in building an offensive cyber-war capacity and has built up a elite corps of 3,000 digital warriors.
Using EMP weapons to devastate the south's electronics - alongside hacker legions, doubtless - could give the Norks a chance to inflict a devastating attack on their rivals. North Korea's cyber-attacks alone are estimated to have cost Seoul £500million in the past four years.
However, there's every chance that the EMP threat could be empty sabre-rattling from Pyongyang, which just wants to put the wind up its southern enemy. It could also be a self-interested assessment by the south's military and intelligence community, which naturally stands to benefit from a more dangerous North.
Thus far, the only known demonstrations of militarily effective EMP have involved the use of nuclear warheads: a nuke generates a powerful EMP when it goes off. Rumours have persisted for decades of effective non-nuclear EMP weapons, but even the mighty USA appears not to have had any real success in developing these.
Last year, former CIA director R. James Woolsey said such an attack represented an "existential" threat to America and suggested Iran was working with the Norks to develop an EMP strike capability. It is generally assessed that North Korea can build functioning nuclear bombs, though the outcast nation is thought still to be some way in reality from weaponising this capability.
Earlier this year, Pyongang was rumoured of developing a miniature nuclear bomb, which could be hidden in a truck: but then, it has also been claimed that the Norks have cracked nuclear fusion. ®