Win 8 PC sales plunge as retailers, disties shave orders by HALF A MILLION in Q3
Certain upgrade called 8.1 was on its way...not that Chrimbo shoppers will care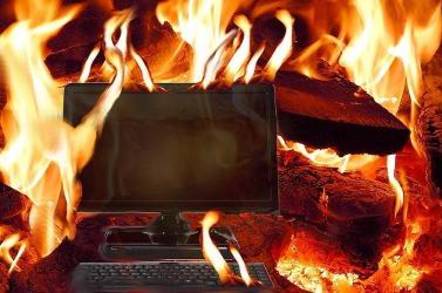 UK retailers and wholesalers were so busy waiting for Microsoft to release the Windows 8.1 upgrade that they apparently forgot to keep ordering PCs in Q3.
Or is it - perhaps more likely - that these companies bought PCs more cautiously, based on inventory pile-ups that have occurred since the consumer market crashed three years ago?
Either way, these outlets and wholesalers took orders on 2.35 million computers (desktop, notebooks and x86 tablets with Windows 8), which is more than half a million – specifically, 632,000 – fewer than a year ago, a drop of 21.2 per cent, Gartner beanies said.
Typically tablets drag the overall PC market into a position of growth, but that is seemingly only when Android and iOS machines are included.
"Eleven of the previous 12 quarters also showed decline in the UK PC market," said Ranjit Atwal, research director at Gartner.
Retailers took in 13.6 per cent fewer PCs and sales to distributors that serve business-to-business resellers dived 28.1 per cent. Total desktop sales fell nearly 17 per cent and notebooks - 62 per cent of overall UK shipments - fell 23.7 per cent.
Four of the top five vendors (HP, Dell, Apple and Acer) all declined. Only Lenovo grew, up 26.4 per cent and closing in on second-placed Dell and first-placed HP.
But the "others" sector, made up by the rest of the vendor line-up, declined 40 per cent.
"Overall, we expect the PC market in the UK to remain weak in the fourth quarter of 2013," said Atwal.
He added the latest Ultrabook and tablets are "expected" to pique consumer interest "but spending on these products will remain limited in the near future".
Gartner's typically apocalyptic view of the PC market is at odds with sales-out data from Context, which showed that distributor sales to resellers - even without tabs - were up.
But Context is generally considered to be more indicative of what customers are buying now, as opposed to what they may buy over the next three months.
Gartner data showed that Blighty was weaker than both France and Germany, where sales fell 10.4 per cent and 14.4 per cent respectively to 2.33 million and 2.289 million. Sales across Western Europe were down 12.8 per cent to 11.8 million units. ®
Sponsored: Detecting cyber attacks as a small to medium business