Horny lovers FOSSILISED in steamy RUMPY-PUMPY session 156m yrs ago
Luckless insects favoured missionary position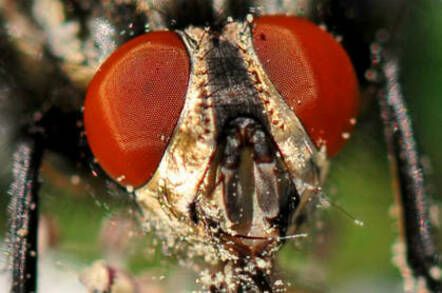 Two horny beasts have been caught shagging in the missionary position - 165 million years after they started.
Chinese scientists found a fossil of two froghopper insects in the middle of what newspapers might euphemistically term a "sex act".
The sweethearts were killed by poisonous gas as they went at it, before sinking to the bottom of a lake and becoming covered by layers of ash and sediment.
They then ended up in a fossil collection, before being rediscovered by a team from Capital Normal University.
"This one is so rare," said Chungkun Shih, a professor at the uni and co-author of a paper discussing the find. Shih has examined more "more than half a million fossils," but has never before seen two insects bonking.
The two love bugs were having sex in the same way that froghoppers still do it: in a belly to belly stance that most humans would call the missionary position.
In a bid to explain why froghoppers still prefer this rather staid position, as opposed to reverse cowgirl or the wheelbarrow, Dr Shih said: "This works. They don't need to change."
About 33 examples of copulating insect fossils have been dug up. Until now, the oldest was two lustful midges who were immortalised in Lebanese amber for 135 million years.
The latest creepy crawlies were found in a bed of ancient beasts including feathered dinosaurs. There is a chance that the couple were entombed together and were pushed into position by the pressure of sediment. But who wants to believe that?
A report into the findings was written by Shu Li, Chungkun Shih, Chen Wang, Hong Pang and Dong Ren. It is called Forever Love: The Hitherto Earliest Record of Copulating Insects from the Middle Jurassic of China and was published in the journal PLOS One. ®