Bletchley Park vows to upload secret World War II code-cracking archives
HP donates scanners and staff for historical archive's web launch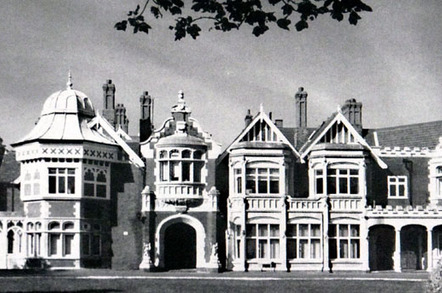 Bletchley Park, the British wartime code-breaking center that housed computing legends such as Alan Turing and Tommy Flowers, will put its paper archives online after HP provided the scanning hardware to get the job done.
"We've been wanting to do this for a while. It was first discussed five years ago, but we have just never had the funds," Simon Greenish, chief executive officer of the Bletchley Park Trust, told the BBC.
"If I ever manage to secure £10,000 then that goes towards buying a new roof as this project just has not had the attention it deserves. But for the first time we hope we will be able to put everything into the public domain."
The archive contains decrypted messages picked up from monitoring stations around the world that were cracked by the Colossus programmable computer. Also included are photographs of world leaders taken at the time and official government orders from Churchill and others.
The plan is to scan the archive and upload it to the internet; the documents will be a treasure trove for historians studying the period. Greenish said the web publication of the dossiers may encourage academics to reassess the role of countries that remained ostensibly neutral in the conflict, such as Spain and Sweden, since it appears governments in both those countries were in regular contact with the Axis powers.
The archive could also provide more details against one of the war's most famous double agents, Joan Pujol Garcia, who was codenamed Garbo by the British authorities. Garcia was a Spaniard who fooled the Germans into funding an imaginary spy network in the UK, and his reports that the D-Day landings were a ruse to draw the Nazis away from another invasion point in France is seen as pivotal in delaying a serious counterattack in Normandy.
Many of the documents in the archive are too fragile to be handled by the general public and remain safely sealed. The scanning has been made possible thanks to HP donating at least £10,000 in scanning equipment and the manpower to operate it to Bletchley. ®
Sponsored: Quit your addiction to storage