Wayback Machine hardware up in FLAMES (but interwebs' DeLorean WAS backed up)
Internet archive building fire toasts $600k of kit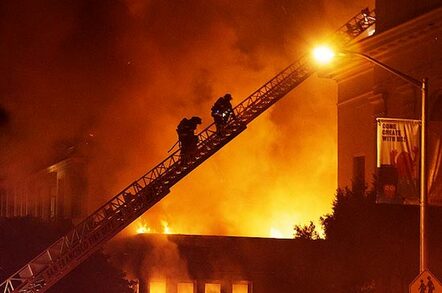 The internet archive charity behind the Wayback Machine has launched an emergency funding drive following a fire which wrecked more half a million dollars worth of equipment.
A fire ripped through the Internet Archive's (IA) San Francisco scanning centre at 3.30 am last night. Although fireman were on the scene in minutes and no one was hurt, the charity estimated that it has lost about $600,000 worth of digitisation hardware.
Luckily, no data was hurt during the blaze, which did not affect the IA's main building.
In a blog, the charity said: "Our main building was not affected except for damage to one electrical run. This power issue caused us to lose power to some servers for a while.
"Some physical materials were in the scanning center because they were being digitized, but most were in a separate locked room or in our physical archive and were not lost. Of those materials we did unfortunately lose, about half had already been digitized. We are working with our library partners now to assess."
The charity has now launched a drive to raise enough money to replace the equipment. It insisted that it has backups of the data in "multiple locations" so it has not lost the "amazing content" it had collected during its project to build up an archive of the entire internet.
The IA was full of praise for the help it received from the local community and authorities.
"The San Francisco Fire Department was fast and great," the charity added. "Our city supervisor and a representative of the mayor's office have come by to check up on us. There has been a pulling together on the Internet as news has spread."
It added: "This episode has reminded us that digitizing and making copies are good strategies for both access and preservation. We have copies of the data in the Internet Archive in multiple locations, so even if our main building had been involved in the fire we still would not have lost the amazing content we have all worked so hard to collect.
"It is in difficult times like these that we turn to our community."
Anyone who wants to give help can either donate cash to help rebuild the scanning facilites, or could volunteer to help digitise materials at another IA facility. ®