Tesla shares dip as Elon Musk admits electrocar firm ran out of juice
'Leccy carmaker suffering from battery shortage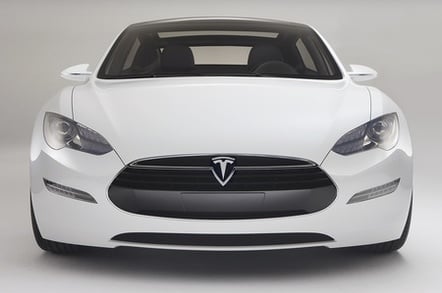 Shares in Tesla Motors dropped over 14 per cent yesterday after CEO and founder Elon Musk revealed that the firm doesn't have enough batteries for its Model S.
Billionaire inventor Musk told analysts in a conference call that US buyers had been left hanging after their cars were diverted to Europe because there weren't enough lithium-ion batteries to meet demand, the Washington Post reported.
Musk said the situation wouldn't be getting any better until next year, when a deal to secure more batteries from supplier Panasonic would kick in.
The news, coupled with Tesla reporting a net loss of $38.5m for the third quarter on revenue of $430m, scared investors into sending shares down 14.5 per cent, their largest one-day drop since January 2012.
Stocks in the electric carmaker were riding pretty high earlier this year, as the firm got its first profits and its new Model S EV won rave reviews. However, sporadic battery fires have brought the cars' safety into question and Tesla has frequently failed to match analysts' expectations for the number of vehicles it can deliver. ®