World's first astro-bot sends greetings from International Space Station
There he is sitting in a tin can, far above the Earth ....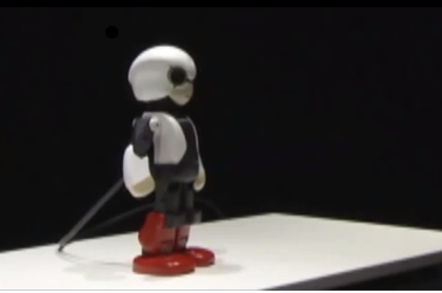 Diminutive Japanese astro-bot Kirobo has sent its first greeting from space in a brief message from the International Space Station, where it's awaiting the arrival of three flesh-and-blood companions later today.
The 34cm tall robot was fired into the heavens back in August on a mission to cement robot-human ties in space by chatting regularly with astronaut Koichi Wakata – the first Japanese 'naut to command the ISS.
"Good morning to every one of you people on Earth. I am robot astronaut Kirobo. I am the world's first talking robot astronaut. Nice to meet you," said the robot in Japanese – a language less than 2 per cent of the planet actually understands.
"Mr. Wakata, are you not here yet? I really want to see you soon," the bot added somewhat menacingly, according to AP.
Kirobo, whose name is derived from a combination of the Japanese words for "hope" and "robot", was built by Tomotaka Takahashi of Tokyo university along with carmaker Toyota and advertiser Dentsu.
Its mission to make sure Wakata isn't lonely in space doesn't quite stack up, considering the Japanese 'naut will be accompanied by cosmonaut Mikhail Tyurin and NASA astronaut Rick Mastracchio when they arrive on the Soyuz-FG rocket later today.
Let's hope there isn't a more sinister mission Kirobo isn't telling us about.
"My dream is to see human beings and robots live together as friends," the robot apparently added. "I will talk to you a lot from space so please listen to my chats."
We will, Kirobo, as soon as we learn Japanese. ®