Fujitsu fattens its all-in-one data protection box by 300 per cent
And gives it a 50 per cent throughput boost, for good measure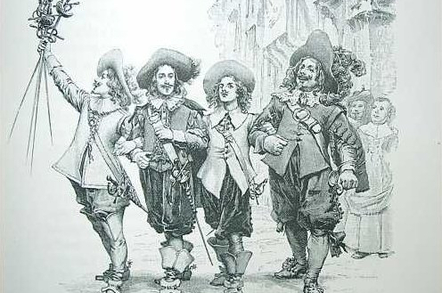 Like the three musketeers and their "one for all, all for one" motto, Fujitsu has its "all for one, one for all" CS8000 data protection appliance for mainframes and servers. It's just been strengthened with a 300 per cent capacity increase to 15PB online and a 50 per cent throughput increase.
The CS8000 abstracts different backup and archive targets from disk to tape and presents them through a consistent layer of grid-scalable CS8000 appliances to open system servers and mainframes.
With the new V6 product data from servers and mainframes is stored in a scalable disk cache from which near-instant recovery is possible. The data can subsequently be moved to tape and kept on - or deleted from - disk. Data in the disk cache is deduplicated.
The deduplication can run in parallel on several CS8000 nodes "ensuring that … data sets running into double-digit petabytes do not create performance problems on backup and restore operations."
Up to ten separate deduplication pools can be maintained to address the secure multi-tenancy needs of service providers.
The CS8000 can now store up to 15PB of data online before compression or deduplication, 300 per cent more than the previous model. The highest throughput is 150TB/hour, a 50 per cent increase.
Sepaton's VirtuoSO backup-to-disk deduplicating system will scale to a planned 16PB and planned 120TB/hour throughput. Fujitsu's CS8000 is definitely a high-end box set and has added mainframe support.
The CS8000's NAS functionality supports 2 billion files and the CS8000 supports local and remote tape libraries. The system has added asynchronous replication alongside the existing synchronous data mirroring. Intercontinental replication distances are supported.
The CS8000's general functionality includes:
Support of mainframes, Unix, and x86 servers
Support of all major backup and archiving software suites
Unified target system encompassing disk, deduplicated disk, tape and cloud storage
Integrated management of disk, dedup' disk and tape
Functionality for refreshing data and data migration
NAS connectivity, SAN and VTL support
WORM functionality for archives
Grid architecture to scale capacity and performance
Data mirroring, replication and cascading
Models for unified backup and archiving use cases
Dedicated archive-only models
Fujitsu has had a separate CS High End product and customers using this can upgrade it to add this deduplication.
Get a bunch of technical details here. The latest CS8000 generation products will be available world-wide from December and "pricing is according to region and specification." ®