None of your Bezos: Jeff's wife gives one star to journo's Amazon tome
I am less biased than his wife, tech hack snaps back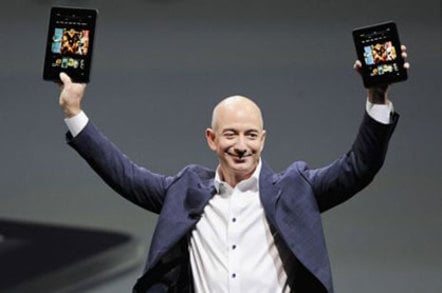 Amazon founder Jeff Bezos' wife has stuck up for him on the site, claiming in a review that a book about the business and Jeff is a "lopsided and misleading portrait".
Mackenzie Bezos gave The Everything Store one star in a review that blasted its author, technology journalist Brad Stone.
She wrote: "Everywhere I can fact check from personal knowledge, I find way too many inaccuracies, and unfortunately that casts doubt over every episode in the book."
Stone has disagreed with her assessment, telling New York Magazine that even though Jeff wouldn't be interviewed for the book, he did check his facts with as many people as he could.
"I've been a tech reporter for fifteen years, and I talked to 300 people for this account of an incredibly secretive company," he said.
"To the extent that I've made any factual errors, I'll happily correct them. But narrative nonfiction demands that we get as close to our characters as possible. While Jeff didn't give me interviews specifically for the book, I drew on my discussions with him for the past decade."
Apart from the alleged inaccuracies, Mackenzie said that the style of the book and the anecdotes that were chosen showed that Stone was biased:
An author writing about any large organisation will encounter people who recall moments of tension out of tens of thousands of hours of meetings and characterise them in their own way, and including those is legitimate," she said. "But I would caution readers to take note of the weak rhetorical devices used to make it sound like these quotes reflect daily life at Amazon or the majority viewpoint about working there.

For example, when the author does include people whose accounts of a supportive and inspiring culture contradict his thesis, he refers to them dismissively throughout the book as robots.
She also claimed that Stone had presented speculation about what Jeff was thinking as fact.
'Bezos was frustrated…', 'Bezos was consumed…', 'In the circuitry of Bezos's brain, something flipped…' - When reading phrases like these, which are used in the book routinely, readers should remember that Jeff was never interviewed for this book, and should also take note of how seldom these guesses about his feelings and motives are marked with a footnote indicating there is any other source to substantiate them.
Mackenzie said that she had firsthand knowledge of the events surrounding the setup of Amazon, having met Jeff in 1992 when she worked at hedge fund DE Shaw and having been married to him to the last 20 years - although Stone suggested that might have influenced her review somewhat.
"I am less biased than Jeff's own wife," he said. ®