New US Apple factory will make INVINCIBLE sapphire glass for SHINY iThings
Paltry 700 jobs not much counterweight to Chinese legions, though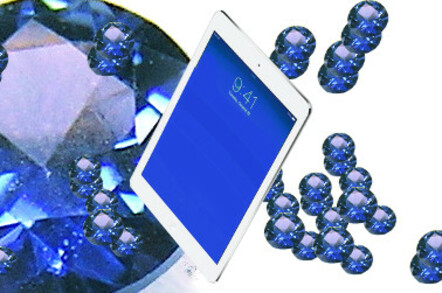 Apple is planning to open a new factory in Arizona in partnership with mineral crystal firm GT Advanced Technologies, to make sapphire components for its devices.
The fruity firm would seem to be trying for some PR benefit as well as some super-tough scratchproof glass to use in gadgets or iWatches of the future. Apple probably needs to make itself look as though it gives something back to the US economy, after it was hauled in front of a Senate committee to explain how it pays so little tax on its billions in cash reserves over the summer. Cupertino has also faced continuous criticism regarding the treatment of many thousands of workers in China, where most of its manufacturing work is done in its supplier factories.
GT said that it had signed a multi-year supply deal with Apple for "sapphire material", which it can be assumed will be an effort to move on from current toughened glasses as used on the faces of smartphones to something more in the league of the extremely hard-to-damage glass long used on prestige watch faces (see previous Reg coverage here). GT did say that the plant was expecting to employ over 700 people in Arizona, something of a drop in the ocean compared to the legions of workers putting iDevices together at Foxconn and Pegatron factories in China.
However, the announcement did make the governor of Arizona happy. Jan Brewer said in a statement that the factory in Mesa would "generate significant capital investment" for the state and would create 1,300 construction and associated jobs while it was being built.
"Apple will have an incredibly positive economic impact for Arizona and its decision to locate here speaks volumes about the friendly, pro-business climate we have been creating these past four years," she gushed. "Their investment in renewable energy will also be greening our power grid, and creating significant new solar and geothermal power sources for the state."
The state is the second to get some investment from Apple, which also said earlier this year that it was planning to build computers in Austin in Texas. That city is incidentally the same place that Googorola is putting together its new Moto X phones.
Google may also be looking to buff up its image a bit, since it has spent the year defending itself against similar tax questions to those faced by Apple, as well as trying to settle an antitrust case over search dominance "abuse" in the EU. ®
Sponsored: Detecting cyber attacks as a small to medium business