Blighty promises £49m to get more British yoof into engineering careers
UK.gov chief boffin: 'Generous salaries' needed to find future grease monkeys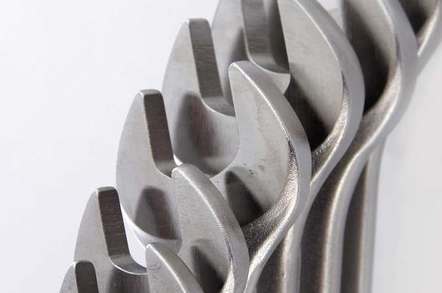 The British government plans to spend £49m on trying to encourage kids into engineering to make up the skills shortage in the industry.
Professor John Perkins, chief scientific advisor to the Department for Business, Innovation and Skills (BIS), said that Blighty needed to "substantially increase the supply of engineers" in a report published today.
Perkins found that the UK was currently relying on immigration to pick up the slack in the industry, with immigrants accounting for 20 per cent of professionals in sectors like oil and gas extraction, aerospace manufacturing and computer, electronic and optical engineering, which he said was not a long term solution to skills shortages.
"We should support the UK's young people by preparing them to compete for highly-paid skilled engineering jobs, improving their career prospects and reducing the need to import engineering skills," he said.
Business figures have been banging on about the severe lack of graduates on their way through the pipeline to fill future engineering jobs. Inventor Sir James Dyson said earlier this year that the government needed to do something, claiming there would be a 60,000 person shortfall this year alone.
"The government must do more to attract the brightest and best into engineering and science so that we can compete internationally. 26 per cent of engineering graduates do not go into engineering or technical professions," he said at the time.
"More worrying is that 85 per cent of all engineering and science postgraduates in our universities come from outside the UK. Yet nine in 10 leave the UK after they finish their studies. British knowledge is simply taken abroad.
"Engineering postgraduates need to be encouraged with generous salaries. A salary of £7,000 a year for postgraduate research is insulting."
Both Perkins and business secretary Vince Cable said it wasn't enough for the government to throw money at the problem - employers, teachers and parents had to help encourage people into engineering as well.
"Engineering has a vital role to play in the future of UK Industry," Cable said. "It is important that we act now to ensure businesses have access to the skills they require to enable them to grow.
"We cannot do this alone so I am calling on employers and education professionals to get involved and inspire the next generation of engineers."
The review also warned that more needed to be done about diversity in the industry. Perkins found that the UK has the lowest proportion of female engineers in the EU, with fewer than than one in ten engineers being female. The problems started with girls' subject choices at school after GCSEs and were sometimes exacerbated by gender stereotypes in the careers advice they were given and the stereotypical view of a career in engineering, the report added.
To help address diversity and skills shortages, the government said it would provide up to £30m in funding in the new year for employers in sectors with specific needs. It's also planning an £18m investment in a new training facility at the Manufacturing Technology Centre in Coventry, part of the High Value Manufacturing Catapult that works with companies to develop next gen tech.
The government is also providing £250,000 in seed funding to the Tomorrow's Engineers programme to help the nationwide rollout of its employer scheme, which is trying to encourage kids at school to consider careers in engineering. ®