Microsoft founder Paul Allen's money man wants Redmond to break up
Investor calls for two CEOs, exile for XBOX and bin for Bing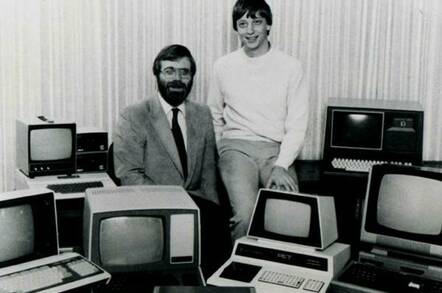 The man in charge of Microsoft founder Paul Allen's investment vehicle has suggested Microsoft should be broken up.
Allen left Microsoft in 1982 after an illness, but retained a huge parcel of shares and still owns a couple of billion worth of Microsoft stock. That stake is managed by Vulcan Capital, whose chief investment officer Paul Ghaffari late last week spoke at an event hosted by The Financial Times. That journal's regwalledreport of Ghaffari's says he believes Microsoft's dominant revenue streams are software and services sold to business.
"The search business and even Xbox, which has been a very successful product, are detracting from that. We would want them to focus on their best competencies," he told the FT. "My view is there are some parts of that operation they should probably spin out, get rid of, to focus on the enterprise and focus on the cloud."
The timing of Ghaffari's thought bubble is almost certainly not accidental, given the company is looking for a CEO. If considered as sending a message through the press, a PR tactic often deployed in financial publications, it's also a little incendiary, because Microsoft's long-term strategy has seen it try to break into more consumer markets. Sloughing off Bing would be an admission of failure in search and a damming statement about the power of the Windows desktop to direct useful traffic to online services. Abandoning XBOX would damage Redmond's attempt to build a gaming ecosystem spanning different classes of device.
Ghaffari's thoughts also highlight Microsoft's biggest miss, namely the inability to break into consumer markets. In some quarters Apple's iPhone business alone drags more revenue through the door than everything Microsoft does. Microsoft may be able to point to a surging enterprise software division, but has no hyper-growth story to match Apple's, Google's or Samsung's.
The FT says Ghaffari feels that if Microsoft decides it needs a CEO with more consumer experience, it should pair him or her with a colleague whose strong suit is technology in order to ensure Redmond's core businesses remain strong.
A split CEO role could appeal, as it has often been suggested that Redmond's consumer-oriented products don't get the clear air they need within the multi-headed beast that is Microsoft. A split CEO role could also appease shareholders who argue the best way to deliver them value would be to spin out a new company dedicated to consumer products. ®