HP wants to help you mount a Moonshot
Whitman & Co. offer rides on their hyperscale server iron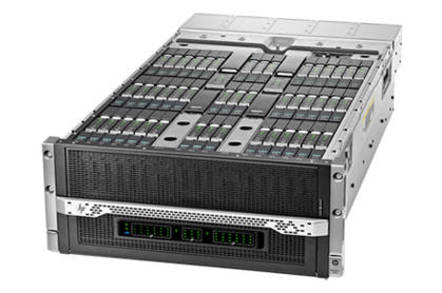 ARM TechCon HP is aggressively playing matchmaker for hardware vendors, software developers, and a broad range of customers as it seeks to establish its "make of it what you will" Moonshot hyperscale server architecture.
"We're turning the development model upside-down, and we're starting with the solution," John Gromala, the director of modular systems product marketing for HP's Industry Standard Server global business unit told The Reg at this week's ARM TechCon in Santa Clara, California.
"We'll say, 'what does that solution want in terms of how it's optimized?' And then we'll engineer our way backwards from that solution to say, 'does it want more compute? more fabric? more memory?'"
Project Moonshot, as HP watchers will remember, was announced in November 2011 in its "Redstone" incarnation, with the follow-on "Gemini" systems launched this April.
The idea is to fill Moonshot with the type of compute power that best suits the workload you plan to run – x86 or ARM compute, network processors, DSPs, storage, or a combination of whatever you need, all on pop-in cartridges. Seeing as how Moonshot fits 45 server cartridges in its 4.3U rack-mountable self, stuffing it with quad-system-on-chip (SoC) cartridges would provide 180 servers per box.
At ARM TechCon, Calxeda announced that its new 32-bit ARMv7 "Midway" SoC will be available in a Moonshot cartridge, and Applied Micro said that its 64-bit ARMv8 X-Gene will be shot to the Moon as well.
Both will be available for devs to twiddle with in the HP Discovery Lab – and that collaborative effort, part of what HP in fine marketingese calls its Pathfinder Innovation Ecosystem, was key to what Gomala wanted to talk about.
"Within the Pathfinder Innovation Ecosystem we have IHVs – the hardware vendors, the chip vendors – and we have the software vendors, and we can actually get the pairing up of the right ones that make sense," he said. "They all come and they work together in our HP Discovery Lab."
Working with HP, those hardware and software folks can collaborate to optimize their offering for different workloads. "The fact that we can bring together those folks in a closer way to innovate is what we see really increasing the pace of innovation," said Gromala, managing to get both the verb and noun forms of one of 2013's favorite buzzwords into the same statement.
"We're trying to get out of the 'one size fits all' world"
Moonshot's goal is to provide a home for a wide variety of workloads in a single server architecture by allowing it to change its character depending upon which cartridges are installed in it. "We're trying to get out of the 'one size fits all' world," Gromala said.
Customers have a role in this process as well. "The cool part of it is we'll lay the base groundwork with the hardware and software vendors, and then we'll actually pull in a customer. We bring then into the Discovery Lab," he said.
"Customers can now say, 'Hey, I want to start looking at my applications, how they run on these things,' and we'll set up time when they can come into the HP Discovery Lab and do that development, as well. The old world of getting all the way through the hardware development cycle, finishing that, working all of those pieces, and then turning it over to the customer and then seeing what's going on. The customers can be involved a lot earlier in the process," he said.
Not all customers, of course, are allowed access to holy of holies, the Discovery Lab, but it isn't be limited strictly to the top tier. Groala told us that HP will "pretty much" work with any customer in the Fortune 2000.
At least as important as size, however, is what the customer wants to do. "There are select ones that are good fits for working closely in something like a Discovery Lab," he said, "but we'll pick specific customers that can really take advantage of a given application and find someone who's really doing breakthrough work for a given application and bring them in."
And what types of workloads will those customers be testing on various and sundry Moonshot systems? "It breaks down into two major areas," he said. "There's more of the horizontal ones like web serving, but we're at the point where we're starting to hit some more of what I'd call vertical solutions."
Among those vertical solutions, he said, was a geophysical data analysis system that's being developed for Moonshot. "That's a very vertical energy industry–focused kind of solution," he said, "but man, when we go ahead and deliver a solution for that, it's going to completely change the TCO benefit that people are seeing in that area."
Moonshot isn't designed to replace traditional servers, but rather to augment them. "A lot of the traditional applications that a lot of enterprises use that have been optimized for two-socket Xeons for years and years and years, those aren't going to change," he said. On the other hand, "A lot of these newer applications, a lot of these more scale-out type applications that are emerging now, are the ones that are going to fit Moonshot."
Exactly how many of those emerging apps will make their way into Moonshot boxes, and exactly how many of those Moonshot and follow-on boxes will be stuffed with ARM, Intel Atom, and other power-sipping chippery won't be known for years. But the possible implications for the server marketplace may very well be sweeping.
And if you want to examine the viability of the Moonshot concept, Gromala and his troops appear more than happy to help. ®
Sponsored: What next after Netezza?