Starboard Storage goes titsup: LeftHanders to leave the building
Sad end to promising startup revealed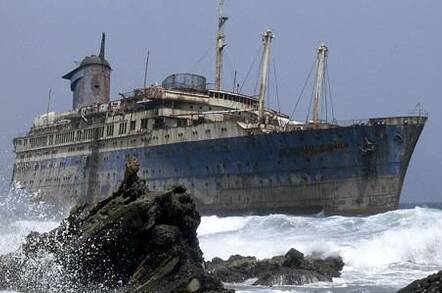 Starboard Storage has been hit by Tango Uniform* syndrome and appears to have hit the rocks. It is currently shuttering its operation.
StarboardStorage was a renovated Reldata, a startup staffed by ex-LeftHand Networks storage people who built a unified file + block hybrid storage array. It more or less put itself up for sale in March with a round of layoffs and the pursuit of "strategic options".
Now The Register has seen an email which is being sent to partners saying the company is winding itself down. It is working with a third party to provide continuing product support to its customers. This is a sad end for a storage startup.
One problem was that there are three prominent hybrid array players – Nimble Storage, Tegile and Tintri – that are growing fast and consuming most of the market's attention span for hybrid arrays. This leaves little room for competitors. Another may have been that Starboard inherited Reldata array software and that was not as good at using flash as ground-up software might have been.
Ground-up software superiority is certainly a marketing play used by Nimble, Tegile and Tintri when their systems are compared to hybridised disk arrays from mainstream vendors like EMC and NetApp.
Ironically another hybrid storage array startup, NexGen, also with ex-LeftHand execs on board, was bought by Fusion-io in April for $119m.
RIP Starboard Storage Feb 2012 - Nov 2013. ®
Bootnote
*Tango Uniform is the representation by phonetic alphabet of the letters T and U respectively, and the slang term for titsup – a vulgar companion to belly-up, as in a dead fish floating belly-up in the water. This is used as a metaphor for a company or business unit failing or becoming inoperative. US military slang treats "titsup" treats as an acronym for Total Inability To Support Usual Performance.
Vulture Central's backroom gremlins are big fans of the British evolution of the phrase, "breasts skywards".
Sponsored: Quit your addiction to storage