The Colosseum, Hagia Sophia, Tower of London... and, er, Steve Jobs' GARAGE
Hallowed carport on Crist Drive a building of 'historical significance'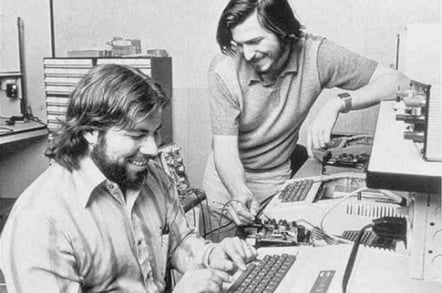 The house where Steve Jobs built his first computers has been added to a list of historic buildings in Los Altos.
The Los Altos Historical Commission voted unanimously to add the home at 2066 Crist Drive as a historic resources, since its hallowed garage was where Jobs made his first computers and co-founded Apple, the San Jose Mercury News reported.
The commission's report said that it had been reviewing the property for potential designation for the past two years due to its "association with an event and an individual of historic significance".
The one-storey ranch-style house will be preserved as it stands, a decision that did not require the permission of Patricia Jobs, Steve's sister and the current owner of the home. However, she will be able to appeal the decision to the city council if she wants to.
The newspaper reported Zachary Dahl, a senior planner with the city, as saying that the evaluation had been reviewed by Patricia, so the newly historical status of her house shouldn't come as a complete shock.
Steve Jobs built the first hundred Apple 1 computers at the house, with the help of Patricia and Steve Wozniak. Those computers are now worth tens of thousands of dollars as collectors' items. ®
Sponsored: Quit your addiction to storage