FIERY DEATH awaits all who stroke mobes mid-flight? Nope, says FAA
Sanity breaks out as regulator officially relaxes rules on gadgets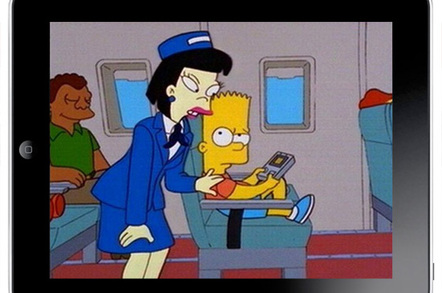 After pondering the issue for at least a year, America's Federal Aviation Administration has officially changed its guidance on using phones and tablet computers in-flight – and ruled they should only be put down during takeoff and landing.
"The travel community is grateful, because what's good for the traveler is good for travel-related businesses and our economy," said US Travel Association President Roger Dow. "It's this kind of forward thinking that will enable us to remain among the leading industries in growth and job creation."
Airlines are supposed to insist that electronics are turned off on aircraft below 10,000 feet in case they interfere with in-flight systems – although impatient passengers can't resist fiddling with Twitter or Candy Crush while waiting for everyone else to board or disembark.
Now, after consulting equipment and aircraft manufacturers, pilots, and airlines, the FAA has ruled that so long as devices don't use radio or cellular connections then there is no danger in using them.
Actually making calls on a mobile from an aircraft is still banned, but Bluetooth headsets and accessories are clear for use in-flight, the FAA said. Devices will have to be switched off and stowed during takeoff and landing in case the plane needs to be evacuated, and during the safety briefing given by cabin crew.
Airlines are now free to change their rules, once they have satisfied the FAA that their aircraft's systems are shielded from harm. Delta and JetBlue have already announced they will be relaxing their rules in line with the new guidance.
Restrictions on the use of in-flight electronics were first introduced in 1966 after it was determined that FM radios interfered with VHF omni range navigation systems, and the aviation authority has updated its advice periodically. In its latest review, in 2004, it renewed a ban on electronic devices being used under 10,000 feet but airlines and politicians have been lobbying for a change for the past few years.
The old ban was unpopular with airlines because passengers hate the rules and air crew take considerable abuse for enforcing them. Given the FAA has already approved the use of iPads by pilots to replace bulky flight manuals, it was only a matter of time before the rest of us got to use our toys during the flight.
"We believe today's decision honors both our commitment to safety and consumer's increasing desire to use their electronic devices during all phases of their flights," said US Transportation Secretary Anthony Foxx in a canned statement.
"These guidelines reflect input from passengers, pilots, manufacturers, and flight attendants, and I look forward to seeing airlines implement these much anticipated guidelines in the near future." ®
Sponsored: Webcast: Why you need managed detection and response