Microsoft creates new cert to make VMware admins 'bi-lingual'
Parlez-vous Hyper-V? Non? Redmond has free training to 'future-proof your career'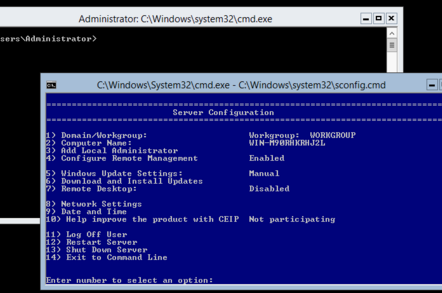 Microsoft has found another way to grab some market share from VMware's: a new certification it says is designed "to help IT pros who are VMware experts build their expertise in Microsoft virtualization."
Redmond's pitch is that IT professionals need to be "bi-lingual" when it comes to virtualisation, because while VMware does a very fine job "Over the last few years, Hyper-V has been going from strength to strength, leading to more and more organizations adopting this platform"
The Reg has encountered plenty of opinion to back that up: multi-hypervisor strategies got a fair bit of airtime once Windows Server 2012 all-but-matched the most-used bits of Vmware's flagship vSphere. Microsoft itself cites this Enterprise Strategy Group blog post that says 65 per cent of organisations run multiple-hypervisor-strategies. Author Mark Bowker offers the following opinion on such strategies:
"While there are a few examples I can point to where IT organizations are making a wholesale switch from one hypervisor to another, the majority of scenarios I see are IT maintaining their investment in its primary platform for the time being and starting to onboard an additional hypervisor for different application workloads, licensing/ cost reduction--by phasing out legacy products--or for the advanced technology capabilities of one solution over the other."
That analysis provides a decent rational for Microsoft's "bi-lingual" argument and means Redmond's offer of a free online course and free exam for the new and prosaically-named "Microsoft Virtualization Certification" looks rather generous. Those who take up the course will get a grounding in Hyper-V and the System Center 2012 R2 Virtual Machine Manager.
There is a sting in the tail: the pages spruiking the education and certification also mention virtual machine migration tools. The Reg can't say if those tools will be mentioned in the training or exam, but expects Microsoft isn't arranging the certification entirely out of kindness. ®
Sponsored: How to get more from MicroStrategy by optimising your data stack