DEAD STEVE JOBS chap becomes ENGINEER ... at Lenovo
Trivia: Ashton Kutcher actually DID study engineering. Sort of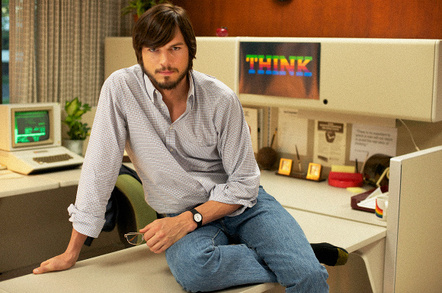 Lenovo has joined the likes of BlackBerry, Intel and Polaroid in hiring a celebrity to have creative input on its new products, bagging Steve Jobs-affiliated Ashton Kutcher for the position of "product engineer".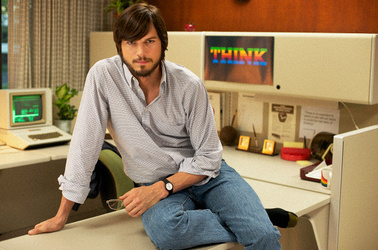 Ashton Kutcher pretending to be Steve Jobs
Whether Kutcher, who recently played Jobs in the movie Jobs, will be doing any actual engineering remains to be seen. Since he dropped out of his University of Iowa biochemical engineering major for a career in modelling, El Reg would guess it won't be much.
However, it's a slightly savvier pick than other tech firms we mentioned, which went for pop stars like Alicia Keys, Will.i.am and Lady Gaga. At least Kutcher is involved in technology investment, through his venture capital firm A-Grade Investments, so he's not a totally and utterly left-field choice. To frame "having lots of money and spending it on tech" as "technical expertise" might be a bit of a stretch, though.
"As we continue to push into new PC Plus product areas and lead in multimode computing, Ashton will help us break new ground by challenging assumptions, bringing new perspective and contributing his technical expertise to Yoga Tablet and other devices," reckons chief marketing guy David Roman.
While Ashton himself opines:
"I can't wait to dig in and help Lenovo develop future mobile computing products, starting with the Yoga Tablet. Lenovo is all about innovation and strong leadership. Entrepreneurship is part of their DNA*, and I couldn't ask for a better fit."
Naturally, neither the PC-maker nor the actor have disclosed financial details on the partnership, but Lenovo did describe it as "multi-year". ®
*Biochemical engineering, you say?
Sponsored: How to Process, Wrangle, Analyze and Visualize your Data with Three Complementary Tools