Now Seagate posts declining results. Can new tech lift it upwards?
And what's with the two new presidents... future CEO bunfight on horizon?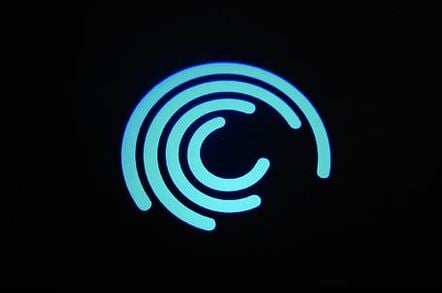 Seagate announced disappointing quarterly results but its underlying trends are positive as it makes big bets on new technologies.
In the quarter ended September 27 Seagate's revenues were $3.5 billion ($3.7 billion a year ago) with profits of $427 million ($582 million a year ago). The annual compare is coming off the tail-end of the Thai flood revenue and profit boost period. Setting that aside we can see Seagate returning to an underlying revenue and profits growth trend. Check out the chart to see this: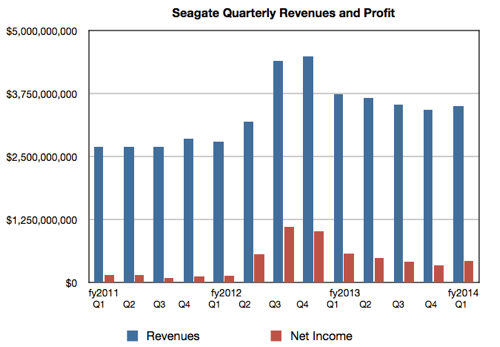 There has been an uptick compared to the previous quarter. Apart from this there's nothing surprising in the results; 57.6 million disk drives were shipped, plus a million SSDs and the disk average selling price continued gently, oh so gently, trending downwards.
However Seagate did make a couple of exec promotions and we can take stock of its disk and flash strategy compared to that of WD/HGST.
Exec uplifts
Two Seagate EVPs become full presidents. Dave Mosley,who was "EVP for Operations and R&D", has been named President, Operations and Technology, responsible for Seagate's "global hard drive, heads and media manufacturing operations, as well as global research and development"
What has really changed here, apart from the title on his business card?
Rocky Pimentel, who was "EVP and Chief Sales and Marketing Officer", has been named "President, Global Markets and Customers, responsible for Seagate's global customer engagement, sales, sales operations, product line management, marketing and retail activities."
Again, what has really changed here?
Seagate's grand high panjandum, president and CEO Steve Luczo, continues in post, saying the promotions "allow me to focus more on the longer term strategic opportunities for our company, and to increase my efforts around accelerating our mobile and cloud technology strategies."
Sounds like he's stepping back a bit and we have two potential successor CEOs fighting it out to succeed him.
Seagate and WD strategies
Luczo said: "We believe that the trajectory of long-term demand for storage is outpacing supply, and the markets that we serve are both expanding and changing rapidly." As well as the existing OEM and distribution channels; "We are also actively engaging with many new customers directly, especially in the cloud services market and with start-up businesses that are also pursuing innovative technical approaches for their storage infrastructures and lack significant go-to-market capabilities."
Against that background the company has four disk technology strategies:
Hybrid flash/disk enterprise and desktop drives.
Shingled Magnetic Recording (SMR) nearline drives; okay at reading but slow at rewriting. Unannounced as orderable product but a million have been shipped.
Future higher-capacity drives using heat-assisted magnetic recording (HAMR).
Kinetic drives with direct Ethernet addressing and object storage, and a wide 3rd party ecosystem to be developed.
Its main competition is WD, whose HGST subsidiary is enlarging disk capacity by producing 7-platter drives inside low-friction helium-filled enclosures. Normal drives have up to 4 or 5 platters. Undoubtedly WD/HGST will do shingling as well but whether it will produce Ethernet-accessed drives is open to question.
HGST is also WD's solid state storage hope with technology acquisitions such as sTec (enterprise SSDs), VeloBit (flash caching) and Virident (PCIe server flash) operated by HGST alongside its own Intel-based SSDs. Seagate has its Pulsar SSD line but this appears restricted in scope and potential compared to the HGST initiatives.
A paraphrased comparison between Seagate and WD would be:
Seagate believes enterprise and desktop performance drives should be a mix of SAS SSD, hybrid disk and normal disk.
WD believes those markets are best served by PCIe flash and SSDs plus ordinary disk drives.
Seagate believes bulk data storage needs a mix of SMR (nearline data) and kinetic drives (objects).
WD believes HGST's helium-filled dives are best for bulk data storage.
Both companies are producing thin 2.5-in drives for ultrabooks and similar space and power-constrained devices, with flash hybridisation being used where access speed is important. Both companies are also focussed on consumer/home file and media hub/cloud backend drives and systems, as well as small business filer storage.
There are no second sources for HGST helium-filled drives, nor, until WD/HGST or Toshiba start producing them, any second source for Seagate's shingled drives. The times, in disk drive land, they are a changin'. ®
Sponsored: Detecting cyber attacks as a small to medium business