Samsung pops out app toolkits for TVs, mobes, tabs (But DON'T mention Android)
First-ever dev con puts spotlight on chaebol's kit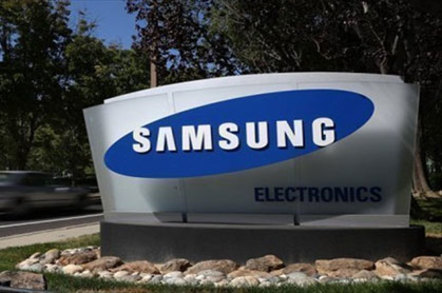 At Samsung's first-ever developer conference, which kicked off in San Francisco on Monday, the South Korean firm unveiled a handful of new software development kits (SDKs) aimed at convincing programmers to think of themselves as not merely Android coders, but developers for the emerging Samsung platform.
In fact, the word "Android" was barely said during Monday's keynote, and Google was never mentioned at all, despite that mobile operating system being at the heart of Sammy's smart gear.
Samsung certainly can lay claim to being one of the most important vendors in the mobile market. According to David Eun, executive veep of Samsung's Open Innovation Center startup accelerator division, the company now ships more than one million mobile devices each day, seven days a week.
Increasingly, however, Samsung sees its reach extending beyond the mobile phone to include a variety of devices, both mobile and in the home, that combine to deliver a single, integrated experience. Not surprisingly, perhaps, Samsung sees TVs as being central to this vision.
Eun said Samsung has been a leader in smart television sets since it debuted its first models in 2007, and in 2012 it shipped some 53 million units, or nearly two per second.
In keeping with this emphasis, on Monday Samsung unveiled five new developer toolkits designed to allow programmers to build apps and entertainment software that can share content across multiple devices with various screen form-factors.
"We are clearing a path for creative developers who want to participate in this multiscreen future," Won-Pyo Hong, president of the Samsung Electronics Media Solution Center, said in a canned statement, "and the SDKs we are releasing today give them a way to start creating for multiscreen, and take advantage of our leadership across so many screens."
Among these new tools, the new Samsung Mobile SDK combines ten previously released packages into a single, integrated development kit, including the S Pen, Media Control, Professional Audio, Chord, and Gesture toolkits, among others.
The Samsung Multiscreen SDK is a new product that includes APIs for one-touch discovery and pairing of Samsung kit, allowing apps to share content across devices.
Building on the Multiscreen SDK, the Multiscreen Gaming SDK provides a gaming engine that allows people to play games on large TVs using a Samsung tablet or phone as a console.
Version 5.0 of Samsung's Smart TV SDK includes support for the new features due to arrive with Samsung's 2014 line of smart TVs, in addition to improved closed captioning, content filtering, and search.
Finally, the Samsung KNOX SDK gives developers hooks into the South Korean firm's enterprise-oriented KNOX platform, which provides a variety of device management and security features not available on stock Android phones.
Samsung's press release said all five SDKs are available in beta as of Monday, but download links for some of the announced products were easier to find than others, and Samsung's developer website seemed to be having a hard time keeping up with demand as of Monday afternoon.
The inaugural Samsung Developers Conference continues through Tuesday, with roughly 1,300 programmers in attendance. ®
Sponsored: How to get more from MicroStrategy by optimising your data stack