Growth, what's that? Storage firms tighten belts as revenues flatline
Poor growth offset by increased profits as companies ride out the US shutdown storm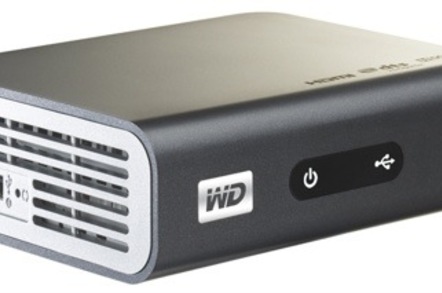 It's results round-up day at the Register, with LSI, Mellanox, QLogic, Symantec and WD all filing their quarterly results. Here we go on a numbers blitz:
Western Digital reported first fiscal 2014 quarterly revenues of $3.8bn and profits (net income) of $495m from making 62.6 million disk drives with an average selling price of over $58.
Revenues were ever so slightly up on the previous quarter's $3.73bn and slightly down from the 1st fiscal 2013 quarter's $4bn. Essentially WD revenues have been flat for the past 12 months, while its profits have started rising:
FY 2013 Q1 - $519m - with Thai flooding shortage price rises
FY 2013 Q2 - $335m - back down to earth
FY 2013 Q3 - $391m - up …
FY 2013 Q4 - $416m - and up and ...
FY 2013 Q1 - $495m - ... up again.
WD boss Stephen Milligan said in prepared remarks that a 7-platter HGST helium-filled drive would be on selected release to early customers in the quarter. We expect this to hold. Currently a 4TB Megascale uses five 800GB platters. A Megascale helium with 7-platters would hold 5.6TB, and maybe HGST will bump it up to the full 6TB, a nicely round number.
LSI
Now, LSI, which has reported revenues of $607m for its third 2013 quarter- $17m more than the previous quarter (good) but $17 million down for the year-ago third quarter (not so good). There was a $37m profit, better than the last quarter's $25m and slightly down on the year-ago quarter's $39.7m profits.
This is LSI's second quarter of rising revenues and profits. However the outlook is for next quarter's revenues to be between $580m and $630m; a wide range, so the rising revenue and profit trend could come to a halt.
Abhi Talwalkar, LSI's President and CEO, said: "In a challenging macroeconomic environment we delivered solid third quarter results, with revenues growing sequentially from products for flash and networking as well as hard disk drives."
In the earnings call he talked of "sluggish growth and in some cases, a deceleration of growth in our end markets versus expectations several months ago."
It's doing well in some areas: "Our PCIe flash-based micro-products grew 55 per cent year-over-year, and our networking investment area products grew 10 per cent year-over-year. …LSI is now established as the #2 provider in the rapidly growing PCIe flash adapter market segment, with Q3 revenues growing 37 per cent sequentially … in flash controllers, we believe our revenue will trough in Q4, and we will soon benefit from a new product cycle based on our third-generation SandForce flash controller."
This, we understand, is the SF-3700.
Talwalkar added: "We recently announced a [PCIe flash] partnership with VMware and are working with Cisco to deliver solutions for big data in Hadoop environments. Our customer base includes Oracle, JPMC, Intel, Dell, IBM and a leading social networking company, and we expect to add even more customers in Q4."
This is all very well but the flash market growth has slowed: "Our overall flash, aggregate flash this year will grow nearly 10 per cent for the full year over last year, certainly below the expectations that we had coming into the into the year … And at the very beginning of the year, we expected growth to be closer to 35 to 40 per cent."
He talked about his view of Flash DIMMs from SanDisk/SMART: "I think that is going to be deployed in a very small slice of the application space. And we've sort of sized that market overall to be potentially $100m in size 2, 3 years out. So we think that's fairly small and certainly aren't concerned about that application diminishing in any way, shape or form the great opportunity we have in PCIe-based flash."
Mellanox
InfiniBand interface supplier Mellanox reported its third 2013 quarter revenues as $104.1m with a net loss of $5.4m. Revenues were "up six per cent from $98.2m in the second quarter of 2013, and down 33.5 per cent from $156.5m in the third quarter of 2012."
There was a loss of $1.7m in the second 2013 quarter and a big profit of $48.4m in the third quarter last year.
Oops! Why the falls in revenue and profitability over this year so far? Mellanox president and CEO Eyal Waldman didn't say in his canned comments, preferring to focus on growth drivers looking ahead, such as the acquisitions of Kotura and IPtronics which should help 100Gbit/s InfiniBand.
We learnt from the earnings call that revenues so far this year have been rising quarter on quarter, "despite the HPC market's relatively slow pace," and a feeling that the US federal shutdown contributed downward pressure.
Mellanox is forecasting slightly higher revenues for the next quarter of $105m to $110m.
QLogic
QLogic, the supplier of server storage networking adapters, both revenues and profits drop slightly in a year-on-year comparison. Revenues for its second fiscal 2014 quarter were $112.6m. They were $117.9m a year ago and $113.1m a quarter ago. Profits were $11m; a welcome turnaround from the previous quarter's loss of $3.1m (and the departure of the then-CEO), but down some from the year-ago quarter's $11.9m.
Jean Hu, interim CEO, SVP and CFO said last quarter's restructuring was paying off and the firm was ahead of its expense control plan. She confirmed the FlashCache products, the first Mount Rainier technology line, were doing well but revenues from this in fiscal 2014 would be modest. Her outlook was positive: "We expect total revenue to be in the range of $114m to $120m." The replacement CEO search is progressing with an announcement expected by year-end.
The summary here is gentle revenue decline which may be about to reverse.
Symantec
Symantec's second fiscal 2014 revenues were $1.64bn, 4 per cent down on the year-ago quarter and on the prior quarter, But profits of $241m were up on the prior quarter's $157m and the year-ago quarter's $189 million. CEO Steve Bennet has wrung more profit out of less revenue. He talked about a challenging quarter in a transition year:
We fell short on revenue … We underestimated the impact of the go to market changes we made, and it was a challenging quarter. …. We have boiled it down to a single critical area that drove the miss - new license sales direct to customers and through partners. Part of our shortfall was due to some second quarter sales that were pulled into the first quarter before we implemented changes to our sales model.

But the majority of the impact to our results was due to significantly changing our coverage model for more than 90 per cent of our direct sales people. We went from traditional generalists selling 150 or so point solutions to sales people that are now information management or information security specialists. We clearly lost more momentum than we expected in the transition. ….

We expect it will take us a few quarters for our sales force to regain its momentum. We expect positive year over year sales activity to begin in the first or second quarter of FY15.
But he still expects revenue growth to restart. Symantec mentioned that most of the decline in revenues came from: "The Information Management segment [which] represented 37 per cent of total revenue and declined 5 per cent year-over-year (6 per cent after adjusting for currency) to $602m. This segment is comprised of offerings related to backup and recovery, information intelligence, which includes archiving and e-discovery, and information availability."
The outlook for the next quarter is $1.63bn to $1.67bn; it was $1.79bn in the same quarter a year ago.
The summary: LSI revenues and profits are so-so; Mellanox's revenues and profitability down; Quantum is declining but more profitable; Symantec's declining but more profitable; and WD's revenues are flat-lining but its profits are rising. Basically, everyone's waiting for revenue growth, which is weird because these storage-related companies are all saying data growth is rising – but their revenues are not. ®
Sponsored: Your Guide to Becoming Truly Data-Driven with Unrivalled Data Analytics Performance