'With free Mavericks, we are turning the industry ON ITS EAR'
Plus: 'Only Apple and some 3 letter agencies can answer, we cannot'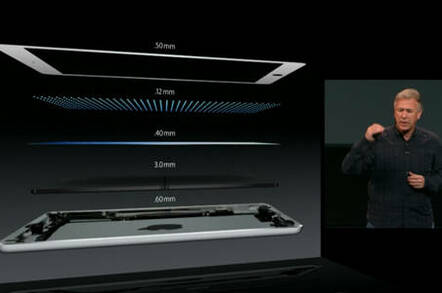 QuotW This was the week when Cisco managed hit reply-all on an email yet again, scooping thousands of its employees up into an epic deluge of electronic messages asking not to get any more electronic messages.
Just weeks after the first debacle, Cisco did it again, leading its principal cloud engineer Kyle Mestery to ponder:
Nothing like a massive, completely unnecessary email storm on a Wednesday morning. Is email really this hard for people to use?

I mean seriously, if you can't understand how an email list works and you work at a technology company, something has gone terribly wrong.
This was also the week when Facebook was attacked for allowing posts of graphic videos – including the filming of what appear to be beheadings – to remain on the site, despite public protest. This caused British Prime Minister David Cameron to chastise the social network on Twitter:
It's irresponsible of Facebook to post beheading videos, especially without a warning. They must explain their actions to worried parents.
This resounding thrashing from a country's leader was enough to cause the following reaction from the multinational advertising firm - it said:
If the video were being celebrated, or the actions in it encouraged, our approach would be different. However, since some people object to graphic video of this nature, we are working to give people additional control over the content they see. This may include warning them in advance that the image they are about to see contains graphic content.
Then it pulled just ONE of the videos that were causing all the controversy and reiterated once again in painful detail that it wasn't down to Facebook what folks were putting on there:
First, when we review content that is reported to us, we will take a more holistic look at the context surrounding a violent image or video, and will remove content that celebrates violence.

Second, we will consider whether the person posting the content is sharing it responsibly, such as accompanying the video or image with a warning and sharing it with an age-appropriate audience.

Going forward, we ask that people who share graphic content for the purpose of condemning it do so in a responsible manner, carefully selecting their audience and warning them about the nature of the content so they can make an informed choice about it.
Meanwhile, a security researcher has accused Apple of being full of s*** when it claims that its iMessage app is spy-proof and totally secure. Cyril Cattiaux, of research firm QuarksLab, called out Apple at the Hack in the Box conference. In a statement on his company's blog, he added:
After Snowden's leaks, Apple published a statement, called Apple's Commitment to Customer Privacy. According to that statement, Apple can provide some metadata (who sends a message to who, the date, ...) but the content of a conversation would be excluded. We will show in this article it is not true. Apple can get access to encrypted message, despite end-to-end encryption.

Does it mean they do it? Only Apple and some 3 letter agencies can answer, we cannot.
In other Apple news, the firm may have released some new piece of kit this week – we think it was called the iPod Fair? – and also decided to "revolutionise" software pricing at the same time by not charging for it anymore.
As for the newest iPad, for pity's sake, don't buy poor old Woz one of those... he just can't stomach the things. At Apps World, the Apple co-founder didn't mince his words, telling the assembled crowds: "I emailed my wife and said 'Nope, I don't want one of those'." The latest OS X update, Mavericks, iLife and iWorks are all free in an orgy of free stuff designed to lock you into the fanboi lifestyle. Apple chief exec Tim Cook apparently thinks that the act of giving out some products for nothing to engender loyalty and get folks into your ecosystem is some sort of new technique in business, saying:
When you combine this [iLife] announcement with the announcement that Craig made earlier that OS X upgrades are free, we are turning the industry on its ear.
And finally, colourful Ryanair boss Michael O'Leary made his debut on Twitter this week with a Q&A that achieved all the basics of good publicity - creating buzz without damaging the brand. It did this by allowing O'Leary to be just as much of a gobshite as he usually is – it was this time last year that he thoroughly berated his own customers for their stupidity just before the holiday season.
During the live Twitter Q&A, O'Leary fired off such sexist gems to questioners as:
Nice pic. Phwoaaarr!
And:
Already overtime, but will extend this for 10 more mins to allow the pretty girls as questions #GrillMOL
While happily giving back as good as he got from the irate customers who were insulting him:
@StuartMRobinson: Is it true that one in four Ryanair flights is fueled by leprechaun urine? #GrillMOL

Dat's an outrageous slur. All four of four RYR flights are fuelled with Lep wee and my bulls**t! #GrillMOL

@LDLDN: Hi Michael - why are you and your staff such insufferable, green-flecked shitstains? Cheers

Wrong airline DJ. We wear blue uniforms not green. I agree with ur views of green-flecked airlines! #GrillMOL ®
Sponsored: Detecting cyber attacks as a small to medium business