Biz bods, politicos, beware: 'BOTS are on the loose, and they're coming for YOU
UK, US, Canada and India all report Mevade infections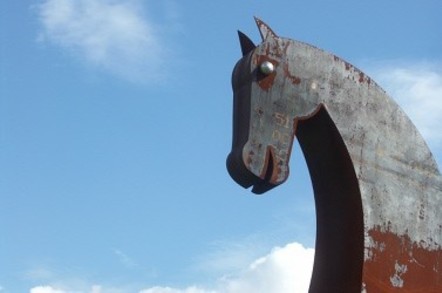 Businesses and governments in the US, UK, Canada, and India are under assault from a malware-based cybercrime campaign using the Tor anonymizing relay network to hide its authors, say infosec researchers.
A strain of malware called Mevade, previously blamed for a massive Tor traffic spike is being used to compromise systems at business services, government, manufacturing, and transport organisations in multiple countries on at least three continents, they say.
The unknown miscreants behind the campaign are stealing data from compromised organisations. However the exact motives and purpose of the campaign – much less who might be behind the cyber-assaults – remains unclear.
The players behind the attacks are using Tor to anonymise traffic and encrypted communications to disguise their activities. Jason Hill, lead security researcher at IT security firm Websense, said: "The malware associated with this particular campaign has been linked to a large spike in TOR traffic indicating that the nefarious parties behind this attack are taking steps in order to secure the anonymity of their command and control (C2) infrastructure as well as themselves."
"In addition," Hill added, "the malware also uses a reverse proxy and communicates over SSL which requires the right technology with the ability to decrypt such encrypted traffic in order to inspect and detect a compromise."
Websense has put together a blog post, complete with maps and charts, documenting the threat in greater depth here.
The Mevade botnet has been making a nuisance of itself for several months, especially after it called attention to itself by leading to a rise in traffic on the Tor anonymisation network.
Previous research by Trend Micro, for example, has shown how adware spread alongside evade variants, infecting systems in both Japan and the US.
Researchers from Damballa Lab were the first to warn of MeVADE, in mid-September, explaining that the malware was slurping enterprise data from compromised systems.
Carl Leonard, senior manager at Websense Security Labs, said that it's likely that profit-motivated cybercrooks (rather than cyberspies) were behind the attack.
"The scale and the functions of the malware indicate that the cyber-criminal actors behind the attacks are primarily motivated by financial gain and will trade valuable data to the highest bidders and entities that may be interested. The extent to which this campaign uses methods to hide its activity and the success of infection that has been observed thus far indicate these actors are operating towards the top of cyber-criminal food chain." ®