Apple and Facebook 'taper off' investment in Flash furtler Fusion-io
Oh snap... it's a stock price dip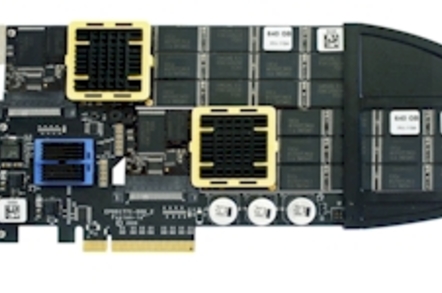 Two of Fusion-io's biggest customers, Apple and Facebook, "are apparently tapering off their investments in Fusion hardware". It is now reporting deepening losses in its first fiscal 2014 quarter, although the sales still look healthy.
Meanwhile, it has also just lost its chief financial officer and chief sales officer.
Newish CEO Shane Robison would say he's still picking up the pieces after the founding CEO, David Flynn, left. Revenues for the quarter were $86.3m, down on the previous quarter's $106.1m and the year-ago quarter's $118.1m.
Net income was a loss of $27.9m, more than the preceding quarter's $23.8m and quite a turnaround from the year-ago quarter's profit of $3.9m.
Robison's canned statement read: "We have made progress in the last several months on key technology and strategic initiatives that we believe sharpen our execution and create a strong foundation for future growth."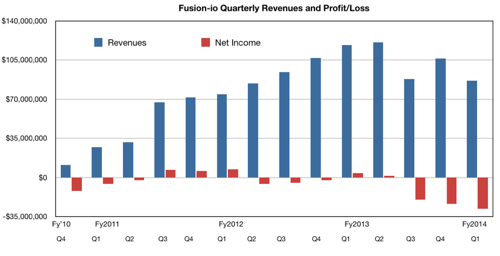 Fusion-io revenues and loss/profits to Q1 fy2014. Click for larger chart.
Why did it do badly? Well, obviously, sales weren't high enough.
Robison was at the helm of the earnings call with departing CFO Dennis Wolf. Robison said: "We believe that our solid top and bottom line performance, in the face of organisational transition, speaks to our continued technology leadership."
That went down like a lead balloon: Fusion stock is down to $12.98 – it was hovering around $14.00 before the results came out.
Stifel Nicolaus MD Aaron Rakers worked out that: "US revenue [was] approximately $51.8m, down 29 per cent year-on-year and 32 per cent sequentially."
Robison said: "Our go-to-market execution issues hindered faster growth." He added: "We are working to strengthen our geographic reach, as we have been overly concentrated in the U.S. enterprise sales area and we see missed opportunities in the other geographies."
William Blair analyst Jason Ader writes Fusion did beat Wall Street's revenue estimate by $1m and the loss was not as bad as feared. But "Management then went on to provide revenue guidance for the fiscal second quarter … [which] was significantly lower than the Street's $114m target. Management also took off the table previous guidance for fiscal 2014, which called for 20 per cent revenue growth, and did not provide a new projection, citing delays in hyperscale customer data centre build-outs and internal organisational changes."
The El Reg storage desk surmises there might still be channel conflict issues here, as both Fusion and its OEM partners sell into the hyperscale data centre market.
Exec turmoil
Ader talks of "turmoil in the company's executive ranks," and says "Fusion faces serious and fundamental problems."
Two of its biggest customers, Apple and Facebook, "are apparently tapering off their investments in Fusion hardware." Also "enterprise growth has generally been disappointing as the competition catches up to Fusion" and "Fusion's software products have yet to catch on."
The company is being forced to compete on price and "many of the concerns around increased competition, commoditisation, and customer concentration have come to fruition."
The only really good news that Ader sees is "that Fusion represents a more attractive takeover target now that its valuation has come down to earth." Hint, hint, Seagate. He is writing to investors after all.
Now, the exec departures: CFO departure – Dennis Wolf is jumping ship to join DataStax, a NOSQL database startup with with 300 customers such as Netflix, eBay, Adobe and 20 companies in the Fortune 100. Wolf is its first CFO. Greener grass in DataStax then for Mr Wolf.
Chief sales officer Jim Dawson is also retiring. Rakers, citing the exec departures, says: "We believe these departures will work against the belief that Fusion-io is actively engaged in potential M&A discussions."
Sales issues
Is Dawson carrying the can for the OEM channel screw-ups or is there more to it? Robison talked about improving "the speed at which we execute sales initiatives," but he wished "Jim well in retirement."
He added this point: "What we are going through in the sales force … is the transition to a named-account model where we'll have more of the enterprise sales force focused on these big accounts who are great opportunities for us … And that's actually working well, the question is, how fast can we really ramp that now."
A search is underway for a replacement CFO and CSO.
Fusion recently acquired a new board director: Dr Edward H Frank, who recently retired as VP of Macintosh Hardware Systems Engineering at Apple. It has also gone and got itself a chief strategy officer, Gary Smerdon, who is the former SVP and GM of LSI Corp's accelerated solutions division, the PCIe flash stuff.
The firm recently inked an expanded reseller deal with Fujitsu. Fusion's ioMemory will be offered by Fujitsu to accelerate apps in its Primergy and Primequest servers.
Competition
President and COO Lance Smith commented on competitive issues: "There has been quite a bit of consolidation. And what we've seen right now, in the consolidation, that it's too soon to tell whether it's going to make a significant impact. But what we've seen over the last couple of quarters, nothing has really changed."
If it's too early to tell, how can you say nothing has changed?
Robison jumped in on this topic, with reference to Violin Memory's PCIe product thrust: "We're still viewed as the gold standard for server-attached solutions. Remember, Violin is more an array replacement. So it really isn't going up against the sweet spot of our market. Although we do have other competitors. And I think this is a big opportunity, so we're going to continued to see competition come and go. And our focus is on maintaining our competitive edge with a serious investment in R&D and our customer relationships."
The outlook
The outlook for the next, second, fiscal 2014 quarter is for revenues to be slightly higher – no number was provided – and another loss.
A Credit Suisse analyst, Kulbindar Garcha, asked Fusion management this: "The segment, the [one you are in] is clearly growing, [yet] you guys may not grow in it for 12 months. What comfort can you give to investors that something more difficult is not happening in the market. Either the customers that you once thought you won are now not actually going to give you business, that the pipeline isn't as strong or something more fundamentally difficult or wrong isn't with Fusion-io? Those are harsh questions but I just though I'd ask them up front."
Robison said: "We have been facing is a difficult time with the build-outs of some of our hyperscale customers' data centres … schedules have been changing. We've obviously had some organisational issues, which have constrained visibility."
He couldn't say if previous new hyperscale-class customers were walking away and couldn't/wouldn't talk about the order pipeline, but did say he'd like better visibility. Is this one of the sales issues that prompted Dawson's retirement?
Wolf said: "The visibility issue has to do with the timing of [big strategic hyperscale customer] data centre build outs. So without going into specifics on each of those customers, that is the issue and it's just the nature of the business." Nothing we can do in other words.
Rakers mentioned the Fusion realignment focusing on hyperscale, enterprise, and SMB customers. But the early hyperscale stars like Facebook and Apple are lessening purchases whilst new ones are not taking over. Robison did say: "we believe that the hyperscale opportunity with our OEMs will continue to build out over the course of this year, as we finalise qualification of ioScale with all of them."
HP, Dell and IBM were larger-then-10-per-cent customers in the quarter and prospects with Cisco were bigged up.
Chris says
Robison couldn't show the money to the analysts on the earnings so he naturally bigged up the prospects: "It's important to say our conviction about the long-term opportunity for Fusion-io remains unchanged and is intensely bullish."
Fusion-io is behaving more like an oil tanker being steered around a lengthy turn than a nimble post-IPO company. Its own business needs the equivalent of flash acceleration.
Has Fusion lost the plot? We think that the plot has changed: Fusion is beginning to look like the flash equivalent of Emulex and Qlogic – companies that sell add-on bits for servers and are dependent on a mix of mainstream/sidestream server OEM deals twinned with reseller and ISV channels.
It's not sexy and it's not fast-growing, and pray heaven the server suppliers don't make the flash hardware and software themselves. Teenage Fusion-io could be passing into white-haired maturity early. ®