Computacenter cashes in on support doom, helps corporates flee Win XP
Project work, product sales lift in UK, Germany ... France biz est dans les toilets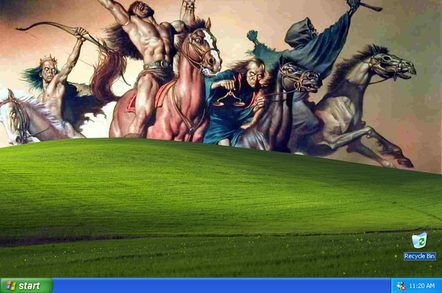 Revenue-boosting projects to help customers flee the Windows XP OS en mass helped Computacenter record near double-digit sales growth in calendar Q3, according to a trading update by Blighty's largest reseller.
Turnover at group level for the quarter ended 30 September was up eight per cent in constant currency to £730m, with services and product sales up six and nine per cent respectively. For the year to date, revenues were up one per cent to £2.16bn.
And with Microsoft support for Windows XP ending next April, London-based Computacenter said it was benefiting from migration work in the UK, where sales bounced 13 per cent year-on-year to £299m.
"The UK business is clearly benefiting from a number of substantial services contract wins over the last few years, not just from the contract revenue itself but from projects, services, and product pull-through the business is delivering," said CC.
"The company is also benefiting from customers' needs to upgrade their operating system, due to support coming to an end for soon to be obsolete versions. The resulting project work and new business take-on mean that the company's professional services utilisation is currently at record highs," he added.
IT departments facing an uphill XP migration can request extended services from Microsoft but it will cost them - $200 per seat in year one, $400 in year two and $800 in year three.
UK services sales were up nine per cent and product sales jumped 15 per cent, said CC.
The German operation appears to have turned a corner, after three services contracts went south last year, though the cost of rectifying those gigs at £29.29m hurt the bottom line for 2013. Those "onerous" contracts are now performing in line with expectations, the firm said.
Revenues in Germany were up 11 per cent in constant currency to £321m with services up five per cent and product sales up 15 per cent.
"The services business (excluding the previously communicated three onerous contracts) is seeing some margin improvement as well as a promising pipeline, although services growth in the first half of next year will be challenging, due to a contract which will reduce significantly in size at the start of the fourth quarter of 2013," it added.
That leaves the trading operation in France, which has weighed down group results in recent years. CC is not alone here, other resellers have also noted weak customer demand in the country.
Sales fell 13 per cent with services down four per cent and product sales slumping 15 per cent.
CC said it has built "substantial momentum" from both revenues streams - products and services - as it entered the final three months of this year, but warned "group performance is being held back by France, which is likely to continue for some time".
The firm added it is "encouraged" by the pipeline with existing and new punters, but expects a lag next year before feeling the benefits of those contracts kicking in during 2015.
"As a consequence, we expect growth, while still positive, to new a little quieter next year on contractual services, with 2014 profitability augmented by margin improvement, particularly in Germany."
It added that "substantial work" is required to build a portfolio of services in France to match those sold in the UK and Germany. ®