Fast is the new Black: WD gives laptops' spinning rust a new whirl
Mystery speed boost for flash-caching consumer HDDs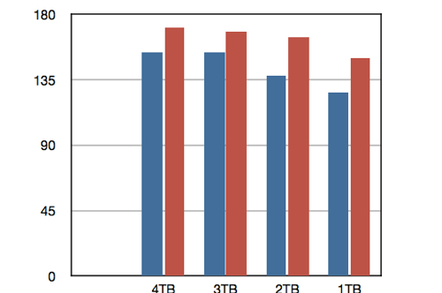 WD has bumped up the I/O speed of its Black line of desktop disk drives, with dynamic caching technology featuring in its marketing material.
Blacks are re-branded Caviar technology, and span a 500GB to 4TB capacity range, spinning at 7,200rpm and using a 6Gbit/s SATA interface.
There is no specific reason provided for the data I/O speed boost, and individual product numbers are laid out in a WD product doc.
We've tabulated the old and new speeds in a table:

WD Black speed boost table
And then we've gone and graphed them: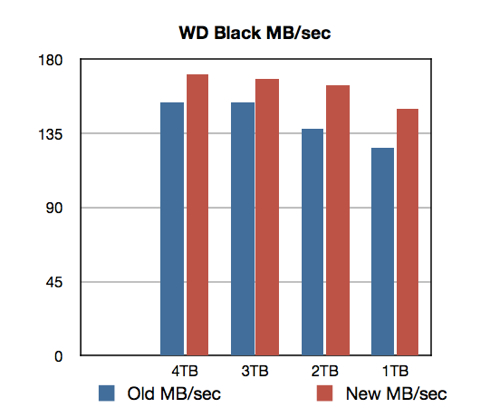 Chart shows old and new WD Black I/O speeds
Very nice. The 2TB product has had the largest proportionate speed increases. We'd guess the speed boost will be more apparent with larger files. How WD has managed to make the I/O faster isn't known. The spin speed, interface and cache sizes are unchanged between the old and new generation products.
WD also has a 500GB flash-cached hybrid Black product coming which should have much faster random I/O speed with data read from its flash cache.
There's been no product press release about the faster standard, non-hybrid, Blacks. Presumably the same technology advance could be applied to other WD disk product families to give them a speed boost too. ®
Sponsored: Detecting cyber attacks as a small to medium business