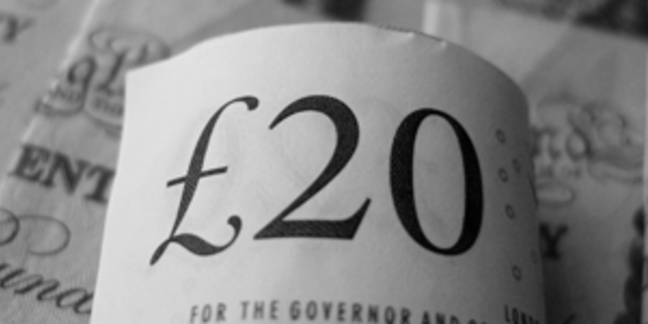 Stone Computers would appear to be caught between a, er, rock and a hard place: it specialises in building PCs for the public sector, both areas of industry that have fallen on hard times of late.
The general PC market has been in continual decline since the second half of 2010 and austerity measures brought in by the coalition to cut the budget deficit have hit tech suppliers hard.
Evidence of this was seen in Stone's calendar 2010 and 2011 numbers so folk in Blighty tech credit circles were interested in the parent, Stone Topco's latest financials.
They are in and they make for much better reading - certainly if you are an investor or working at Stone - with the top line bouncing along nicely, up more than 12 per cent to £73.8m, according to documents at Companies House.
Simon Harbridge, CEO at Stone Computers, who replaced James Bird last year, told us the firm had emerged from "extremely difficult years with our public sector marketplace".
"I wouldn't say public sector spending increased in 2012 per se, but there was some pent up demand from the austerity of the previous two years, coupled with budgets for Academies and Free Schools," he said.
He claimed that Stone increased market share in its education heartland, which accounted for 70 per cent of revenues last year, winning customers across the piece. It also got a boost in the wider public sector from central government tech frameworks.
"We saw the benefits of that increased footprint in 2012 with revenue growth across all our public sector verticals," said Harbridge.
Stone shipped some 140,000 hardware devices in 2012 with a near "even split" between desktop and mobile kit. "We did not see a reduction in shipments of desktop devices".
The firm also has an IT recycling arm and a professional services unit.
Sales were up in the year but the cost of doing that business also soared, up 15 per cent to £60.7m. This led to gross profit growth of 1.4 per cent to £13.1m, up from £12.88m.
Admin expenses were essentially flat but an exceptional item of £600k to cover restructuring costs hit operating profits, which fell to £543k versus £984k in the previous calendar year.
A whopping £3.5m interest charge resulted in a loss before tax of £2.98m, versus a loss of £2.36m in 2011. And this is what is concerning those risk-averse folk in the credit circles.
Harbridge said Stone had £6.2m worth of borrowings with Barclays as of December last year, and loan notes and rolled up interest of £27.9m.
"We generated £3m of EBITDA is the 2012 accounts which more than covered the £0.4m of interest payable in cash to Barclays," he said.
The shareholder loan notes, which increased on last year due to interest accrued, represent the funds invested at the time of the management buy-out (in 2008) with private equity backer RJD Partners.
The Loan Notes fall payable between 2015 and 2017 and sources voiced concern that at current profit margins Stone will need to refinance.
Harbridge claimed the "reality" is that the shareholder loan notes will "only actually become repayable when the business is sold".
"If at that time the value of the business is insufficient to generate repayment in full, the shortfall would represent a shortfall in return for the current investors. The underlying trading company would not be affected," he claimed.
"I would note however that RJD have proved themselves a very supportive and patient investor and they are looking to the long term value of their investment," he added. ®
Sponsored: Webcast: Simplify data protection on AWS