Want a licence to print cash? Move to 3D printing
'At least one of you will make €1m'... No, not you, Dave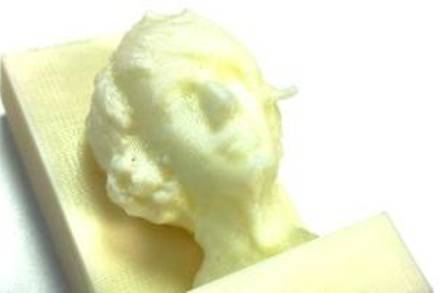 Thought that 3D printers sales weren't going to help you buy a flashy new motor, a luxury holiday or that new pad in the country? Well think again, channel business type.
That's according to Canalys CEO Steve Brazier, who stood in front of 600 channel partners at his firm's recent forum in Barcelona, and told them that despite the downturn, tech hardware does have a rosy future, and it's 3D.
"At least one of you in this room is going to make more than €1m by moving on this next trend: the movement to 3D printing has started," he said.
Some channel partners that we spoke to were not convinced the 3D printing would really go beyond some uses in vertical industries – for example medical or manufacturing.
Brazier pointed to replacement human body parts, women's clothing, shoes, sunglasses and guns as things that had already been printed - though the guns are not working models.
"It is in the early stages, there is some market hype, the market leaders today are small companies you haven't heard of, Stratasys, 3D Systems," he said.
He reckons the "best money making activities" centred on scanning the objects, pens that draw in 3D and the printer hardware.
"This is a wonderful channel business, you need to sell 3D printers, install them, connect them to the network, manage the software and you need to sell the consumables.
"Get that expertise now, you are not going to make your million in one year but in five to 10 years. Becoming the lead 3D printer experts in your country will be a tremendous opportunity," he added.
Some $412m worldwide is forecast to be splashed on 3D printing this year by Gartner, up 43 per cent on 2012.
And over the 18 months consumers will move from being interested in the tech to "finding reasons to justify purchases" as price falls to more manageable levels, said Pete Basiliere, research director at the analyst firm.
HP, the world's largest print vendor, has yet to get into the 3D world but plans to "play and transform that segment", said Jos Brenkel, worldwide senior veep for sales in the Printer & Personal Systems unit at HP.
He said the products were used in prototype manufacturing, but "where the technology hasn't yet evolved is in short cycle manufacturing, and that is where the market will explode".
One of the largest print wholesalers in the UK, Westcoast is adopting a wait and see approach to 3D printing, saying the market is not yet ripe for volume distribution.
"I think it will be an exciting market but it will be specialist," said Westcoast sales and marketing director Alex Tatham, adding it had yet to "cross the chasm from early adopter phase". ®
Sponsored: Minds Mastering Machines - Call for papers now open