Bacteria-chomping phages could kill off HOSPITAL SUPERBUGS
Abandoned Soviet-era science might be key to solving NHS plague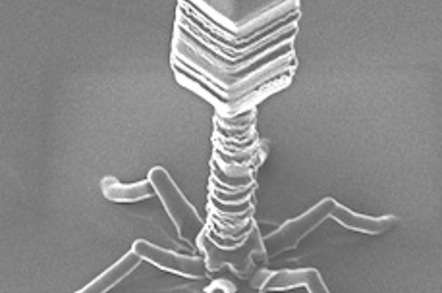 UK research into nature's bacteria-munching bacteriophages is to be commercialised by American biopharma company AmpliPhi. Leicester University signed an exclusive license this week with AmpliPhi, which will fund further work on combatting antibiotic-resistant "superbugs" using phage treatments.
Little is still known about phages, which, despite being the most abundant life form in the universe, were only discovered in 1915. The remarkable properties the viruses have, which include fighting infection in a highly targeted way, were known by the outbreak of World War II.
Infantry in both the German Wehrmacht and the Red Army carried phage treatments: bottles of water, which they were advised to pour over wounds to fight infections. Drawn from wells, the water had no chemical treatment or additives. The subsequent development of penicillin saw the science around phages neglected outside Russia.
Phages can be cultivated to produce hydrocarbons. But it's the destruction of superbugs which holds the most immediate promise.
Dr Martha Clokie and a team have isolated phages able to destroy the superbug Clostridium difficile. C.Diff, as it is colloquially known, was responsible for 17,000 cases of infection in 2011; mostly in hospitals and mostly affecting the elderly.
"Less than a century following their discovery, the future impact of antibiotics is dwindling at a pace that no one anticipated, with more and more bacteria out-smarting and 'out-evolving' these miracle drugs," said Dr Clokie in a statement. The team identified 26 distinct phages able to combat 90 per cent of the known strains of C.diff.
AmpliPhi is a US company with a British chief scientist: Dr David Harper, former head of the herpes virus research group at St Bart's, and which specialises in phage research. Funding will enable further work on the most effective phage combination, and Dr Clokie told Medical News Today that clinical products based on the work could be available in five to 10 years.
So, British brains but American capital. No doubt the social media boutiques of Shoreditch need that investment rather more. ®