Do not adjust your set: TV market slows, 'connected TV' grows
Hang on, why didn't market-watchers see this coming?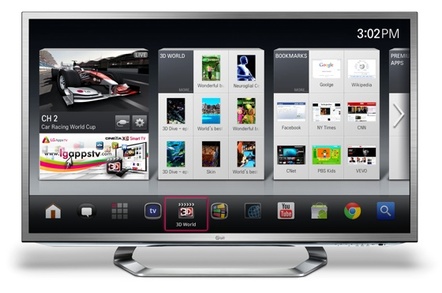 Opinion It is always annoying when forecasters fail to forecast disruption: this is probably the most important part of the future to forecast, rather than incremental rises and blips in revenues.
The TV segment is a case in point: sales of displays for the sets had been foundering since 2009, which didn't bode well. But analysts assured us it was a blip and that LCD screens would continue to rise in numbers, even if revenues came down.
But less people wanting or being able to afford TVs will simply not show up on a supply-side piece of research, unless the suppliers are doing some of their own consumer research, and cutting back on production.
We maintain that tablets are as much to blame for drops in TV sales, as much as the recession in Europe, and the inability of TV makers to offer any key points of differentiation.
The first iPad was launched in April 2010, and even early on, no one quite understood that its primary purpose would be to watch video and perhaps that's because there were few OTT services available then, but they are here now.
Faultline stood up at a number of conferences and asked "Is it a replacement for the first screen, or is it a second screen?" and universally the industry buried its head in the sand and said it was a "second screen" and that term found its way into product demos everywhere.
But increasingly when people talk about TV being resilient, they mean the channels and the broadcasters, not the device. TV is watched more and more on a tablet.
It has taken a while for tablet volumes to rise, however, and despite the fact that most people still desire an Apple iPad, most can only afford an Android device, and so Android has now swept the honours in all recent sales numbers. This means that Google now controls the future TV experience – a fact we all have to simply "get over".
No way back for the Japanese TV sector
So it comes as no surprise at all that the TV Systems Intelligence Service at IHS, a new rival to DisplaySearch – the dominant player in the display research market – points out that for the second month in a row, global shipments of flat-panel televisions fell in July compared to year-ago levels. The release still talks about when the market will get back into growth, but we have suggested that annual TV sales could fall as low as 180 million by mid-2014, from the 230 million high that it was at in the middle of last year.
IHS says that in July the monthly number of TV shipments was 14.9 million – taking in both LCD and plasma panel TVs. In a separate announcement about shipments of raw panels to manufacturers, IHS said LCD shipments were 58 million for the third quarter, down from 58.8 million sequentially and way down from third-quarter shipments in 2012 which were 60 million.
Without ordering a higher level of panels, it is unlikely that TV shipments will rise, so the reduction in TV sales is set to continue month to month. Multiplying that panel shipment level up for the year still brings you way above 200 million de-vices, and we feel there is potential for more bad news on the horizon.
Last week Faultline reported that there is no way back for the once dominant Japanese TV sector after Toshiba announced it would halve its TV division staff from 6,000 to 3,000, and close two of its three TV manufacturing plants and focus purely on UHD sets.
Sharp had already cut 5,000 jobs – just under 10 per cent of its workforce – and Panasonic almost 17,000 jobs, although not all in TV, while Sony shed 10,000. With this capacity being taken out of the market there is little point to these comments about market recovery – there is going to be no market recovery, only survivors.
And yet IHS continues to talk about a market turnaround next year. If you rely more on tablets, you kill the replacement market for TVs in second and third bedrooms, and slow the rate at which the main house TV is replaced. The holiday season may bring financial relief, in temporarily higher volumes, but we very much doubt that it will equal previous years.
Last year was the first time that global flat-panel TV shipments failed to grow, following a decade of expansion. One technology that is on its last legs, says IHS, is the cold cathode fluorescent lamp (CCFL) panels typical of earlier-generation LCD TV displays, and instead LED backed TVs have now completed a clean sweep and make up 95 per cent of the market.
Chinese manufacturers have already stopped making CCFL devices and South Koreans and Japanese will follow (they should be leading surely). IHS says that the combined share of six major Chinese TV brands — Changhong, Haier, Hisense, Konka, Skyworth and TCL — rose 5 per cent to 20.4 per cent, up from 15.5 per cent in June. Samsung remains the global leader with 19 per cent followed by LG with 14 per cent. The Top 3 Chinese brands are expected to outdo their Japanese rivals by the end of the year, predicts IHS.
More tablets, fewer TVs... geddit?
Back in August we reported that branded tablet shipments reached 36.2 million units, a rise of 47 per cent from the prior year and when you add in white-box tablets it was 51.7 million units, up 43 per cent, with virtually all the new devices based on Android. No one seems to have correlated tablets shipments with falling TV sales – duh?
It was in March 2012 that we first reported DisplaySearch saying 2011 TV shipments had been down and that it was a surprise and the first fall for six years. At the time total TV shipments fell just 0.3 per cent to 248 million units, with 205 million of them being LCD screens, so LCD was still rising. Once everyone had an LCD screen, shipments were bound to slow.
At the time DisplaySearch tried to blame excessive inventory levels in US and European retail and a sharp drop in demand in Japan following the end of the government-sponsored Eco-Points programme.
And the truth is that if BRIC countries were not soaking up new devices into their suddenly rich middle classes, this would be a fall of immense proportions and the industry would be almost out on its feet. Economic uncertainty is certainly part of the equation.
Meanwhile in an eerily counter-intuitive report, it seems that Internet Connected TVs are still rapidly rising, and will reach 759 million sets by 2018 across 40 countries covered in a Connected TV Forecasts from Digital TV Research.
What can a connected TV do that a tablet can't? Not much, so expect this report to also fall foul of tablet disruption. The only way that this type of number will happen is if TVs continue to fall in price, in which case this market may continue to flourish, a device cheaper than a tablet, but without anyone making very much money from it.
In our experience large companies don't continue to pursue that kind of market for very long. We feel the arrival of Chromecast (an HDMI connector that makes a TV smart) and other similar devices at the $35 mark, will slow the need for Connected TVs. The report says that Chromecast-styled set tops will only account for 126 million devices by 2018 and it turns out that it includes these in the total 759 million figure.
Copyright © 2013, Faultline
Faultline is published by Rethink Research, a London-based publishing and consulting firm. This weekly newsletter is an assessment of the impact of the week's events in the world of digital media. Faultline is where media meets technology. Subscription details here.
Sponsored: What next after Netezza?